Archive for: 'January 2021'
Notice of Enrolment 2021 :
Parents who wish to enrol their child for September 2021 please see below:
The Enrolment Application Form for the 2021-2022 school year is available as follows:
• Download at www.stbrendansps.ie under Forms and Policies
• Email : principal@stbrendansps.ie.
• Contact the school principal Niall Crofton via message on the school facebook page. Leave a phone number and we will call you back.
• Forms can be collected each Wednesday from 11am-1pm at the school with school lunch pack collections if you wish.
• The school has published and displayed an admission notice as required by DES outlining the number of places available in Mainstream / Special classes.
Completed applications can be emailed back or dropped to the school post box at the front gate / posted to:
St. Brendan's PS, Moorpark st, Birr, Co.Offaly
We would hope to be in contact with families confirming places for Junior Infants in the coming weeks and hopefully ( COVID-19 safety allowing) we can run the full induction programme with school visit in June. In the meantime keep safe everyone,
Niall Crofton ( School Principal)
Board of Management
The Board would like to wish Ms Cathy Daly and Ms Niamh Moran well on their impending maternity leave blocks. Ms Shauna Grimes and Ms Edel Burke are the cover teachers. Ms Edel Burke will be the job-share partner for Ms Ryder and will teach Senior Infants in place of Ms Moran.. At last meeting the board ratified new school policies in area of Exemption from study of Irish and Remote teaching and learning. They also completed the annual review of Anti-bullying policy and are looking forward to 2021 and hopefully new school developments in area of ICT and ASD accommodation. We also look forward to the return of hurling coaching in 2021 !
I would like to take this opportunity to wish you all a happy and peaceful Christmas.
Thanks to all our pupils , families , staff and LWR for working together over the past 4 months to ensure that safety procedures are in place and followed by all to try to keep our school community safe from COVID 19. Please God 2021 will be a brighter and safer place for all.
Thanks to our B.O.M. under Chair of Mr Pat Teehan, Fr. Anthony our Chaplin, our Parents' Association, our hardworking staff of teachers and S.N.As, Sara our secretary, Mick our caretaker and Ruth and Claire who always keep our school looking so well.
Holidays begin on Tuesday 22nd December and school reopens on Wed 6th January 2021
Nollaig Shona Daoibh go léir
Niall Crofton
Christmas newsletter 2020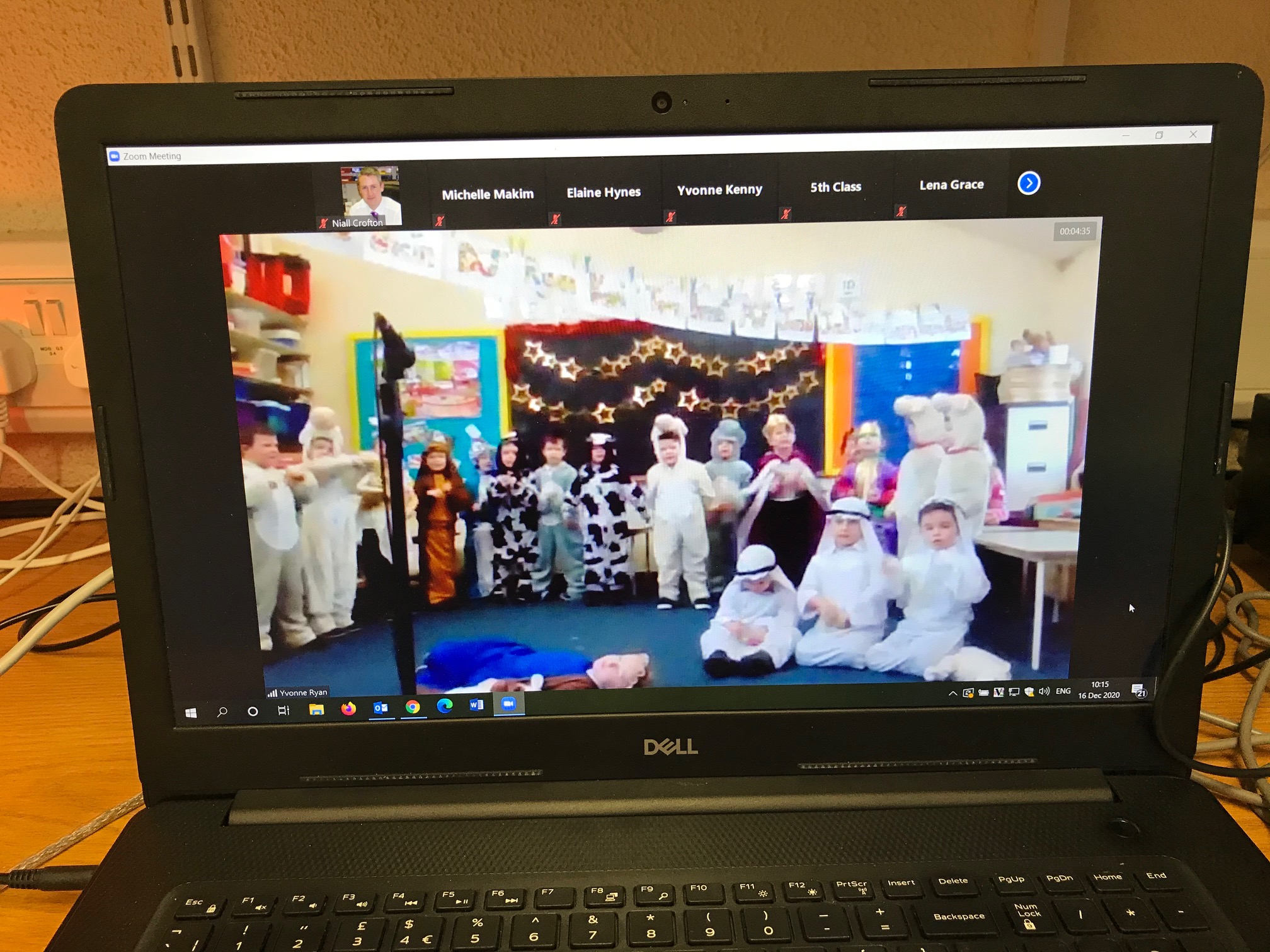 The boys in third class designed art for the Luminaries Project. Their art work coincided with a short tale from years ago and the final product was displayed on the wall of St. Brendan's school. The boys really enjoyed their animations coming to life.  I want to wish all the boys and their families a very happy, peaceful and safe Christmas this year. See you all in the New Year.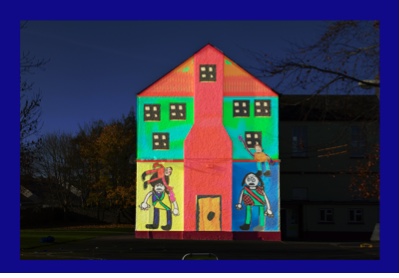 ❤️Birr ❤️ Birr ❤️
This Christmas the town has really supported our boys yet again 👍
Thanks to Tom Kelly of Kelly office supplies ( proud past pupil 😀 ) for sponsoring great prizes for our school Xmas colouring competition- Thanks to our talented staff member Ms Michelle Makim for designing the picture titled " Christmas in Birr " Well done to the winners who were presented with their prizes last week by Tom. The winners and selection of excellent entries are on display on Main Street over the christmas if families want to view when out for a stroll- thanks to Michael Lyons for kindly allowing us to use the shop front – our effort at adding some Christmas cheer to the town this year 👍 #shoplocal #keepsafe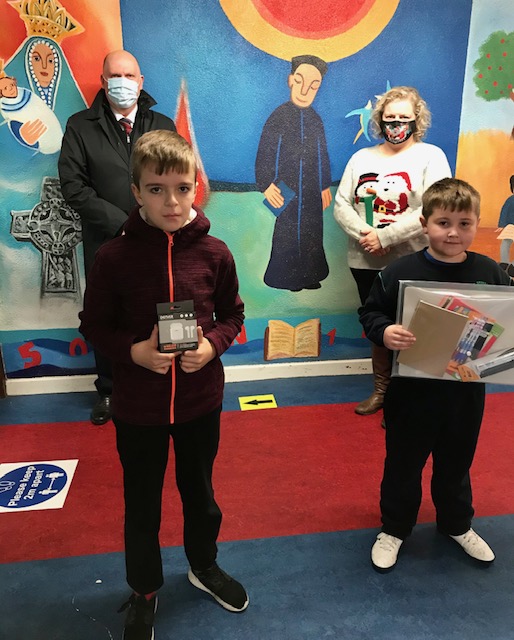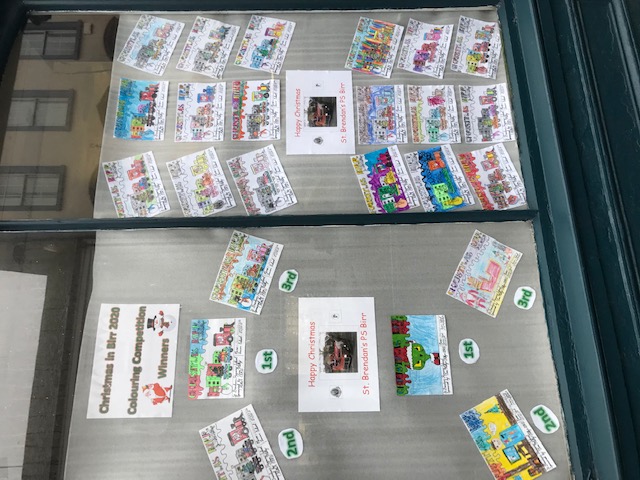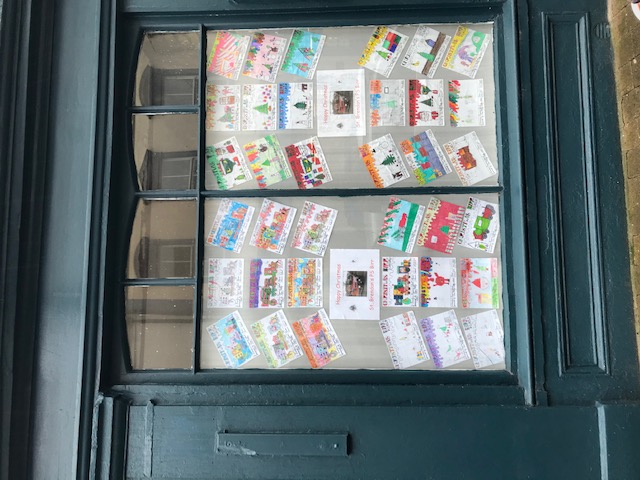 St Brendans PS proud today to celebrate " international migrants day 2020" – we have many international students who consider Ireland and Birr home❤️ Radwan came today to present us with a damask rose and a jasmine plant which are both associated with Syria and the capital Damascus- the boys from 5th with their buddy Abdel delighted to accept and we will plant and mind them 😀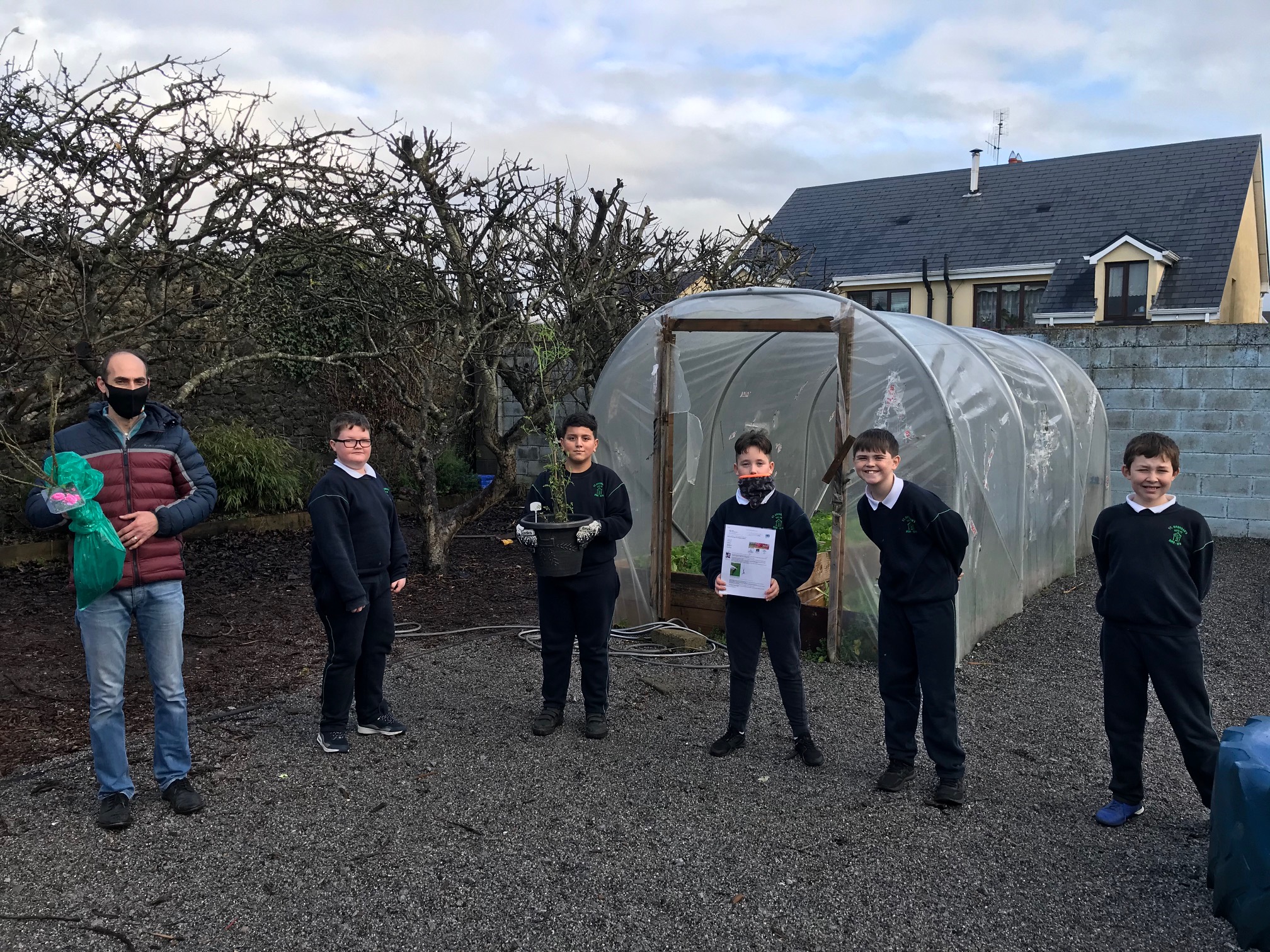 Class Christmas performances
One of the highlights of each year is where each child is involved in a christmas performance ranging from singing to playing music to drama to art exhibitions. This year with COVID it is more important than ever for families to share in the joy of each childs involvement. We have recorded each class over the past few weeks and will publish on our YOU TUBE CHANNEL. This will allow parents to watch on their TV / Device and allow grandparents etc to watch also. We also recorded the Junior Infant nativity via FACEBOOK LIVE and this can be played / viewed anytime.