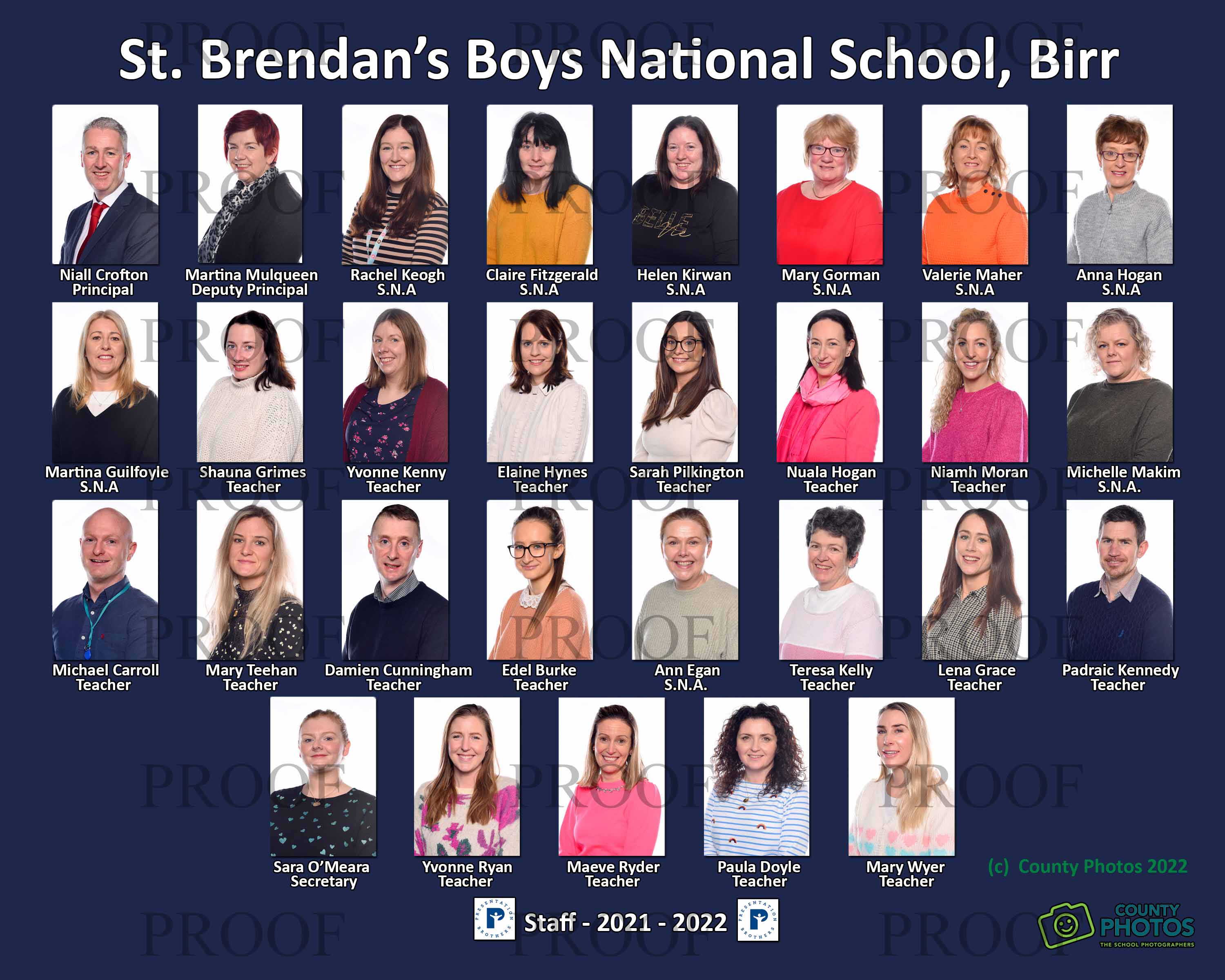 The staff currently consists of over 30 hard-working and dedicated professionals under the leadership of Principal Niall Crofton.
There are currently NINE mainstream classes in the school from Junior Infants to sixth class. In September 2014 we were delighted to open a class catering for pupils with Mild General Learning Difficulties (MGLD). Then in September 2015 we opened a new ASD class ( Cairdeas ). In September 2019 we opened a 2nd ASD class to meet a critical local need in South Offaly. This class CAIRDEAS 2 was constructed on a temporary basis by volunteers from our community led by BOM member Mr Adrian Sheils. The school have submitted plans to DES to construct a purpose-built ASD unit in the near future. There are a number of learning support and resource teachers in the school who form the SEN team. The staff, at present, comprises of 17 full-time teachers. The school received DEIS 1 status from DES in 2022.
In August 2020 the school became a base school for 4 supply teachers ( COVID19) who are available as substitute teachers to 32 local schools.
The school and its pupils also have the support of 9 Special Needs Assistants, a secretary, caretaker and two cleaners.
The school also has the services of a Home School Community Liaison Teacher shared with the Mercy Primary School.There is also a School Completion Programme in operation in the school. These are valuable supports along with school lunch scheme which are part of the DEIS school programme.
Teaching Staff 2022/ 2023
Junior Infants: Ms. Yvonne Ryan
Senior Infants: Ms. Maeve Ryder / Ms Niamh Moran
Rang 1 / Rang 2: Ms. Yvonne Kenny
Rang 1 / Rang 2: Ms. Mary Teehan
Rang 1 / Rang 2: Ms. Ciara Collins
Rang 3: Ms Mary Wyer
Rang 4: Mr. Padraic Kennedy
Rang 5: Ms. Sarah Pilkington
Rang 6: Ms Lena Grace
Learning support / Resource Teachers (SEN Team)
Ms. Martina Mulqueen ( Deputy Principal)
Mrs. Teresa Kelly
Ms Paula Doyle
Ms Alicia Stack ( Mr Calum Cooke covering leave)
Mr Michael Carroll
Mr. Damien Cunningham (MGLD class)
Ms Nuala Hogan (Cairdeas 1)
Ms. Elaine Hynes (Cairdeas 2)
Ms Cathy Daly ( Supply teacher scheme)
Ms Shauna Grimes ( Supply teacher scheme)
Mr John Paul kneafsey ( Supply teacher scheme)
Mr James Gorman ( Supply teacher scheme)
SNA Team
Ms Helen Kirwan
Ms Claire Fitzgerald
Ms Valerie Maher
Ms Mary Gorman
Ms Martina Guilfoyle
Ms Rachel Keogh
Ms Michelle Makim
Ms Anna Hogan
Ms Ann Egan
Secretary Mrs. Ita Morris
Caretaker Mr. Mick Hansbury
HSCL Teacher Ms Ann Hennelly ( Shared with Mercy Primary)
SCP Support staff Mrs Mairead Keevey / Ms Dani Dunne / Ms Rachel Moloney
Cleaning staff Mrs Lorraine Hansbury / Mrs Claire Corcoran
School Chaplain Fr . Anthony
Principal Mr. Niall Crofton