Category: 'Latest News'
June 27, 2023
June 1, 2023
May 28, 2023
Congratulations to our 2nd class boys who made their first holy communion last Saturday. We hope you all enjoyed your special day.
Many thanks to all school staff for preparing the boys so well and to Fr. Tom, Fr Anthony and Joan for their help throughout the year.
Congratulations to our 6th class boys who made their Confirmation yesterday. We hope you all enjoyed your special day. Thanks to Bishop Fintan, Fr. Tom and Fr. Anthony.
Thanks to all school staff who helped prepare the boys throughout the year.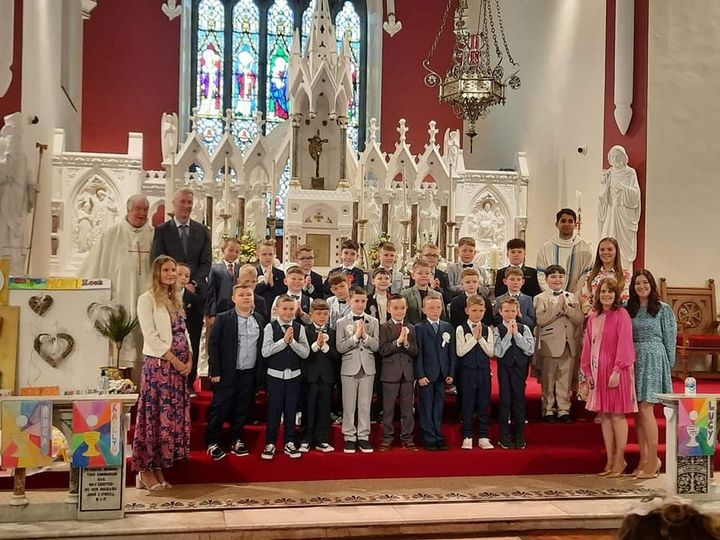 May 28, 2023
A thrilling contest between St Brendan's PS / Gaelscoil na Laochra and St Rynaghs Banagher ended in victory for Birr earlier today.
This was the sixth match since easter for the panel of 29 boys with all boys involved in games leading to the final so well done to all the boys involved.
The pitch at St Brendan's Park was in excellent condition as both sides lined up behind the piper to be cheered on by a large crowd in the stand.
Both sides were matched well and referee Kieran Shannon let the game flow well.
Rynaghs took the lead and this was answered by a free from Ryan Legace ( won by Cathal Mooney who was lively in the forward line)
Rynaghs scored a brace of points but the back line of Darragh Hand and Jamie o hIarnain were hurling well. In front of them Jack Carroll, Lorcan MacEoin and Billy Carroll were clearing an amount of ball and supplying the forwards. The boys picked up a great goal from Tadhg O Gradaigh and point from full forward Harry Watkins along with a brace of points from Ryan Legace – the latter a super score off the left wing on the run. Half time St.B / GnaL were leading 1-4 ( 6) to 0-4 ( 4) .💪
Pause for Jaffa Cakes / drink / jellies and team talk from Mr Kennedy- focus – heart – workrate- win!
Second half began with the same tempo as the first with Rynaghs scoring a free to be answered by a Ryan Legace free. Midfield of Michael Conneely and Ryan Kelly were working for everything and suppling good ball in. Ryan L scored and goal and then the score of the game with a gorgeous sideline cut from the 45 that sailed over the black spot. He followed that with another point from a Harry Watkins assist. The boys were leading 2-7 to 0-5. Then Rynaghs came storming back with 3 goals over 8 minutes only broken by a super Joey Canham point from play. Birr led 2-8 ( 12) to 3-5 ( 11) with only a point in it. Keeper Sam Cleare was finding his men with the puckouts and calmed the game down.
Sub Yi Xuan Yang came on to steady the back line and another sub Justin Touhy scored a great point on the run from wing forward. Rynaghs had a goal chance and then the joint captains took charge with a clearance from the magnificent Lorcan MacEoin to the star man Ryan Legace to put the ball over to finish with a personal tally of 1-7 🙌🙌
Ref blew the final whistle on final score of 2-10 ( 14) to 3-5 ( 11) and the supporters and panel invaded the pitch to celebrate.
Joint captains accepted the Fr Vaughan cup from Mr Jonathon Dunne to huge applause. Ryan thanked Birr GAA, ref , Cumann na mbunscoil, Rynaghs for a great game and the coaches Mr Kennedy , Mr Crofton, Mr Gorman and the other staff who have supported this season.
The lads then took the cup back to the school via a stop to Pilkingtons shop on the way where they proudly displayed the cup to Birr and Offaly legend Johnny Pilkington ( who kindly sponsored them an ice-cream too ). 😎
We look forward now to the rest of the in-school hurling leagues and medal presentation ceremony in coming weeks. Biorra Abu !! Birr Gaa Gaelscoil na Laochra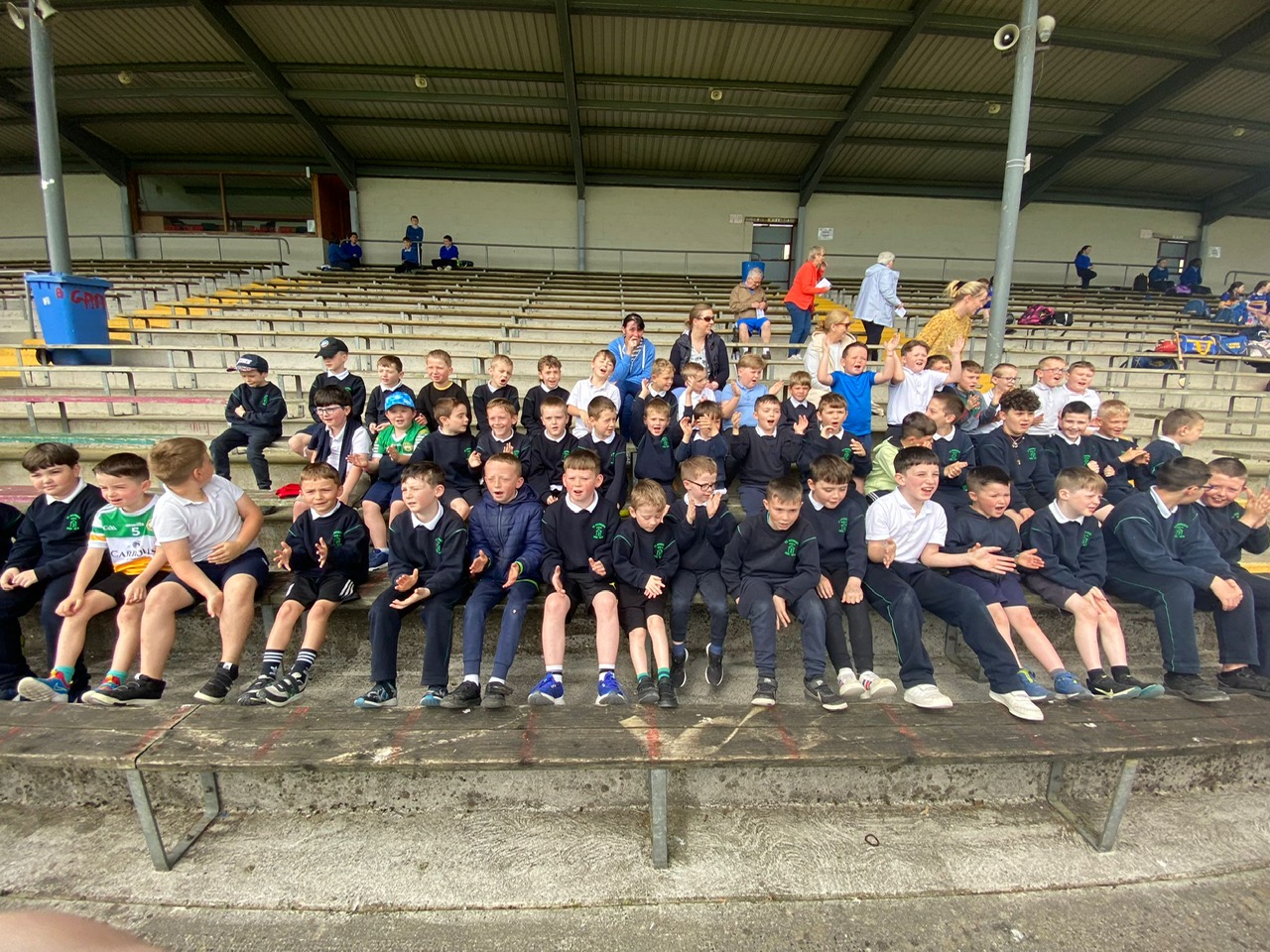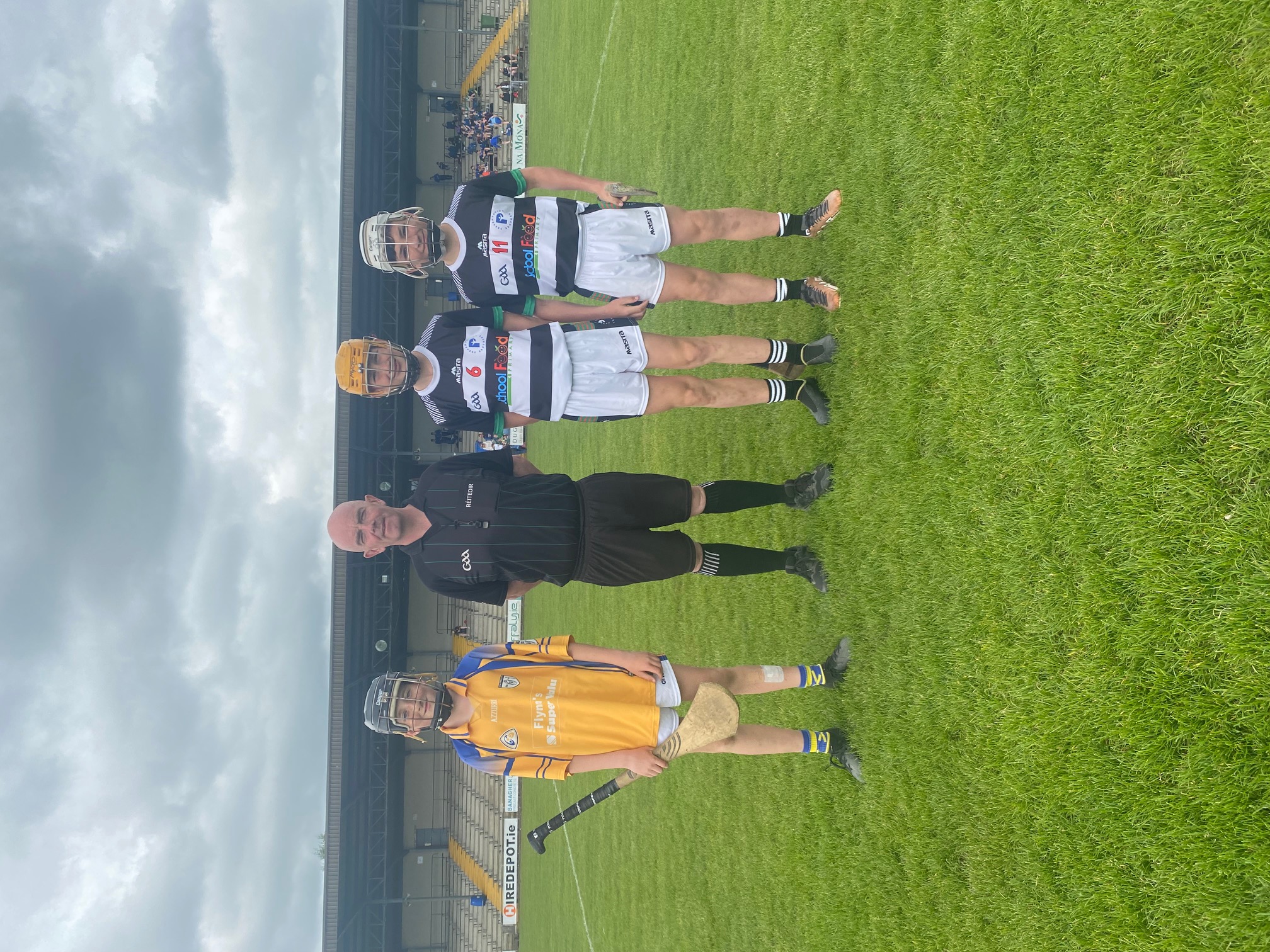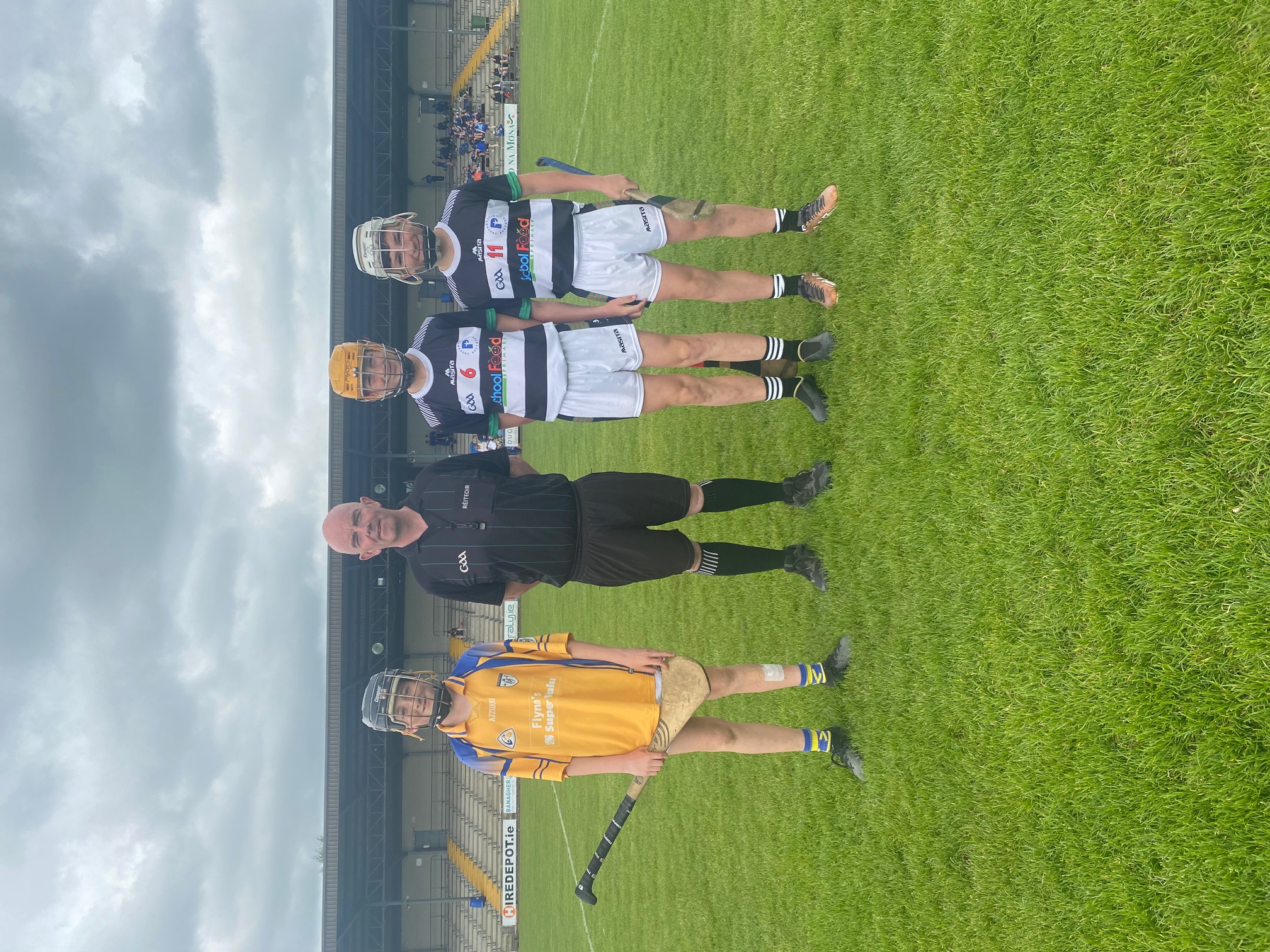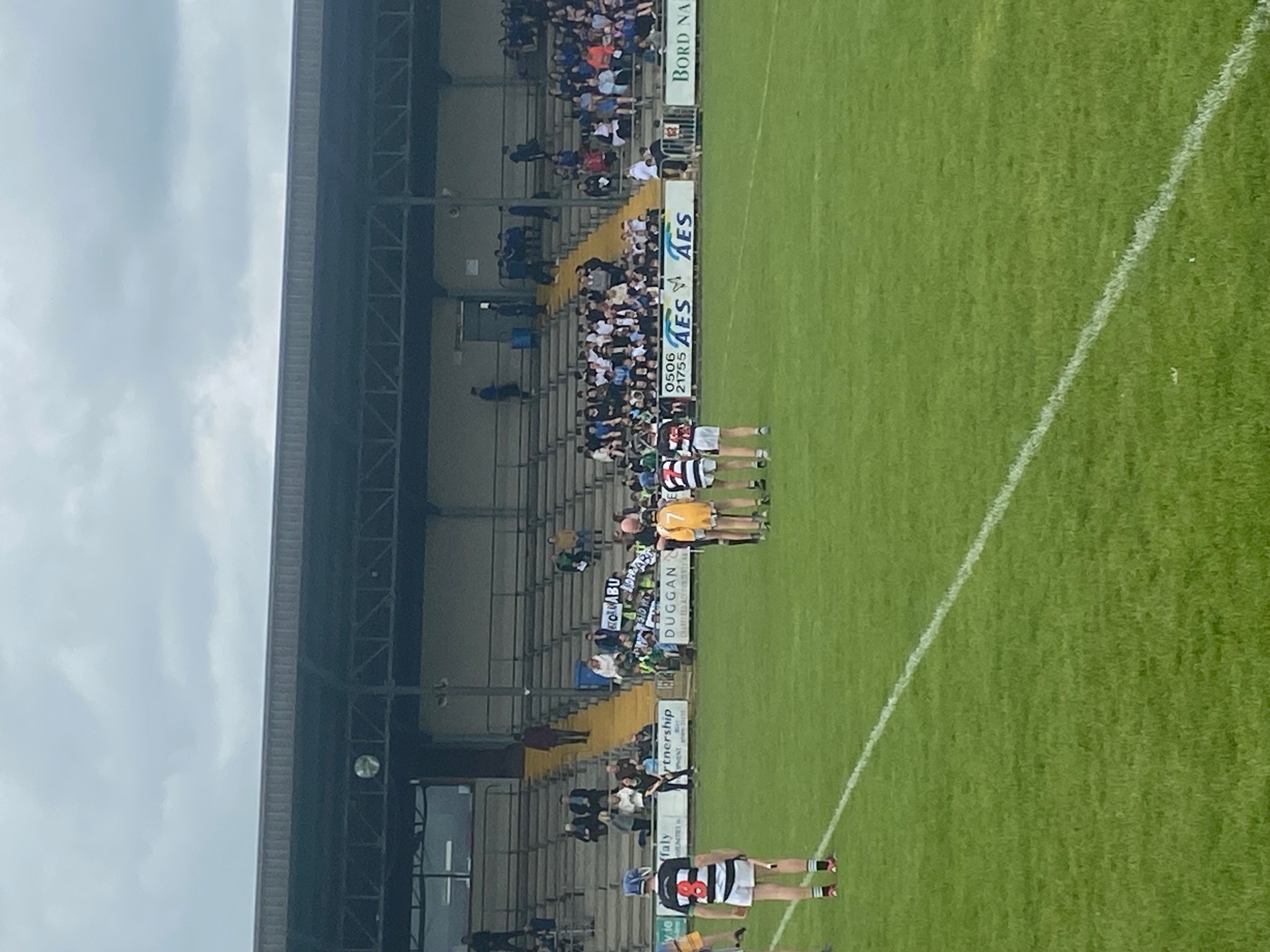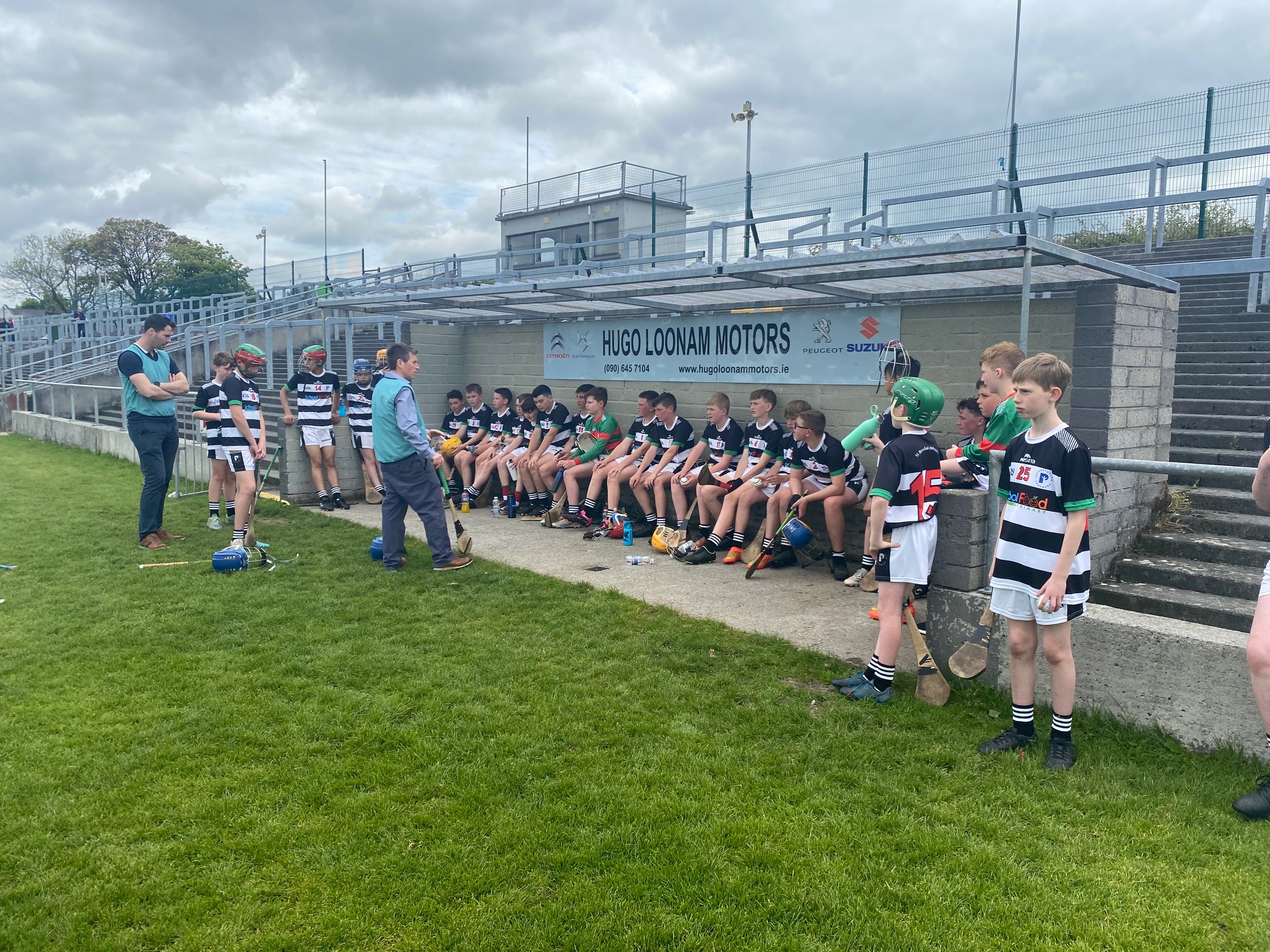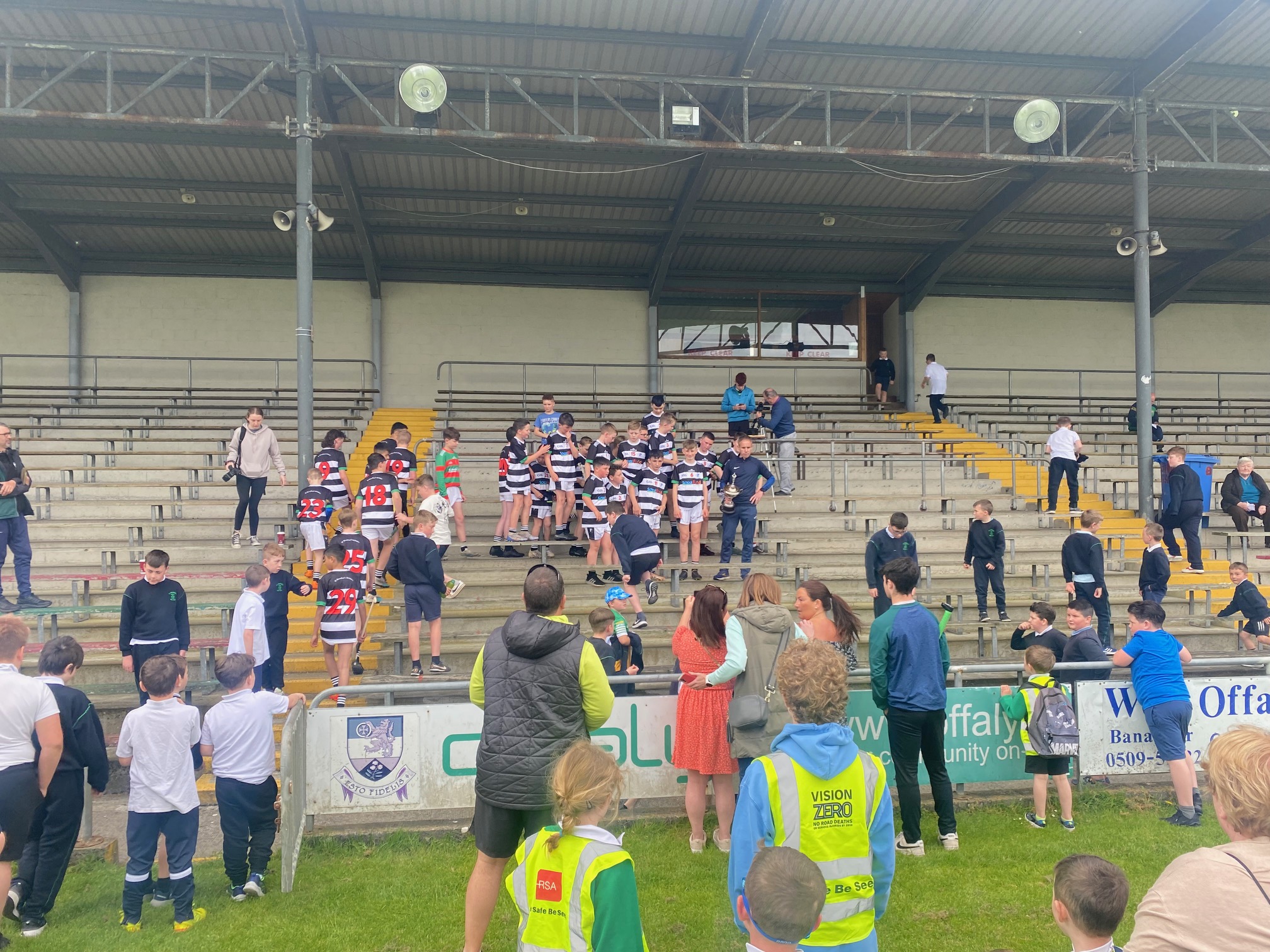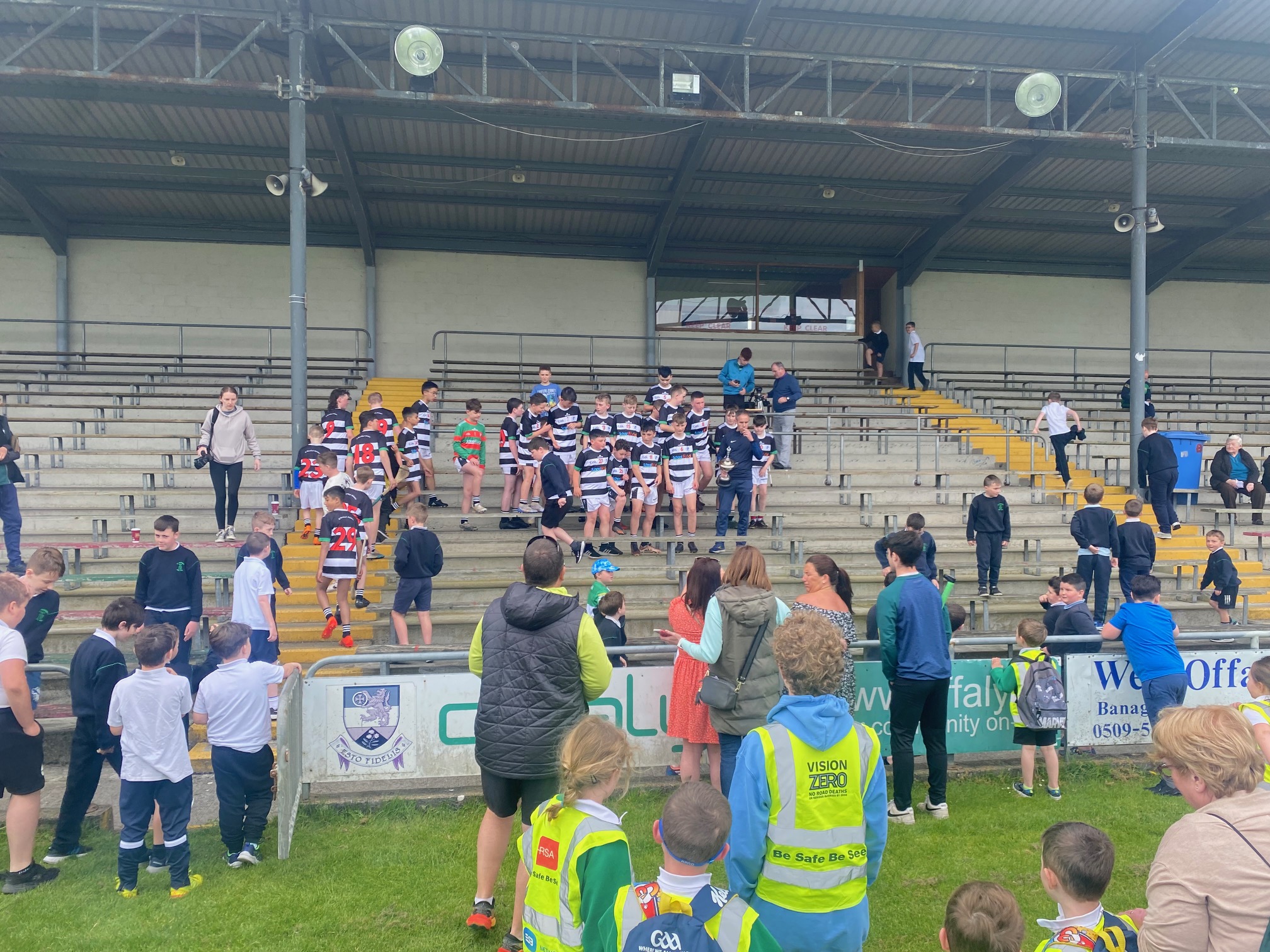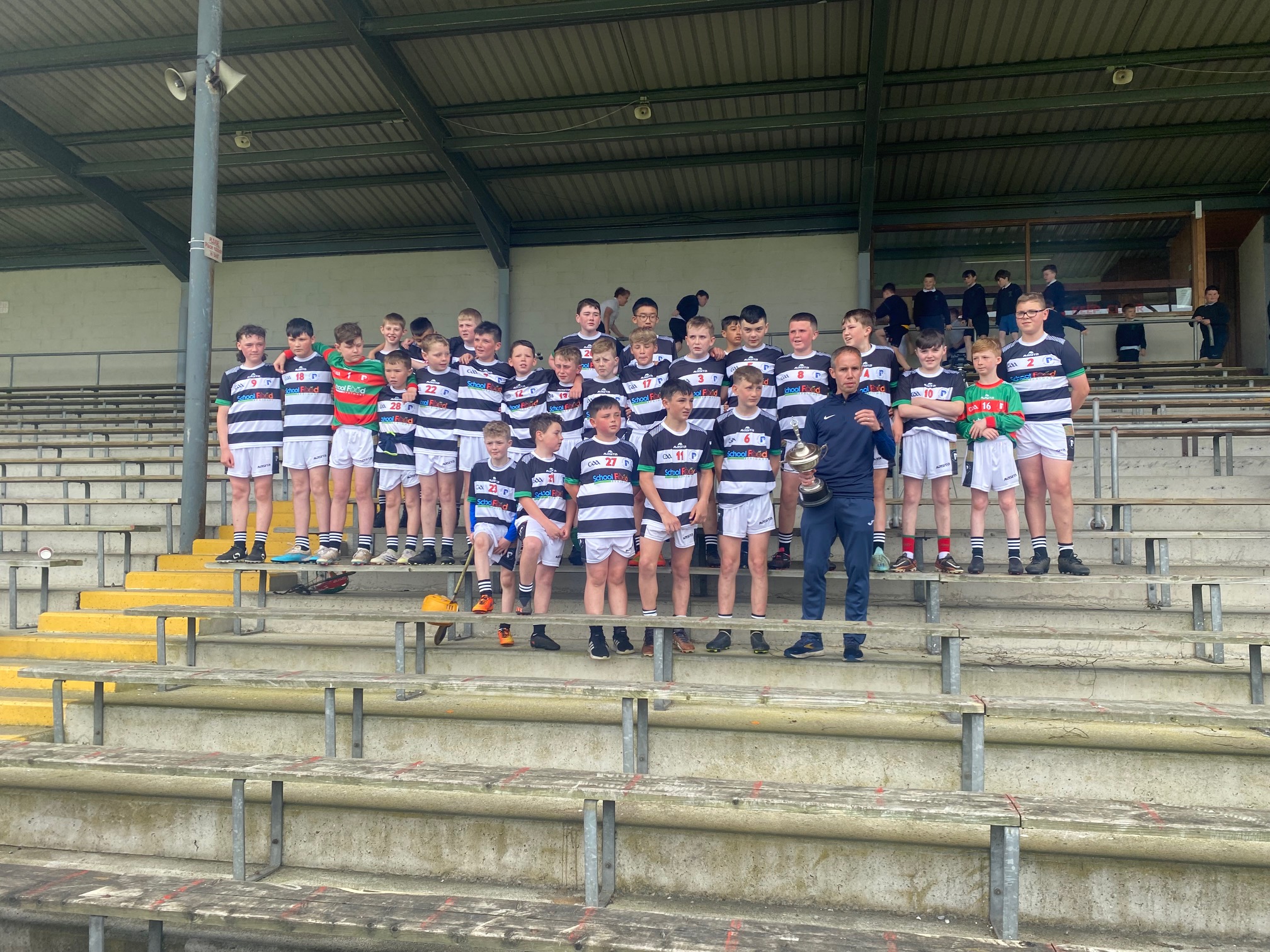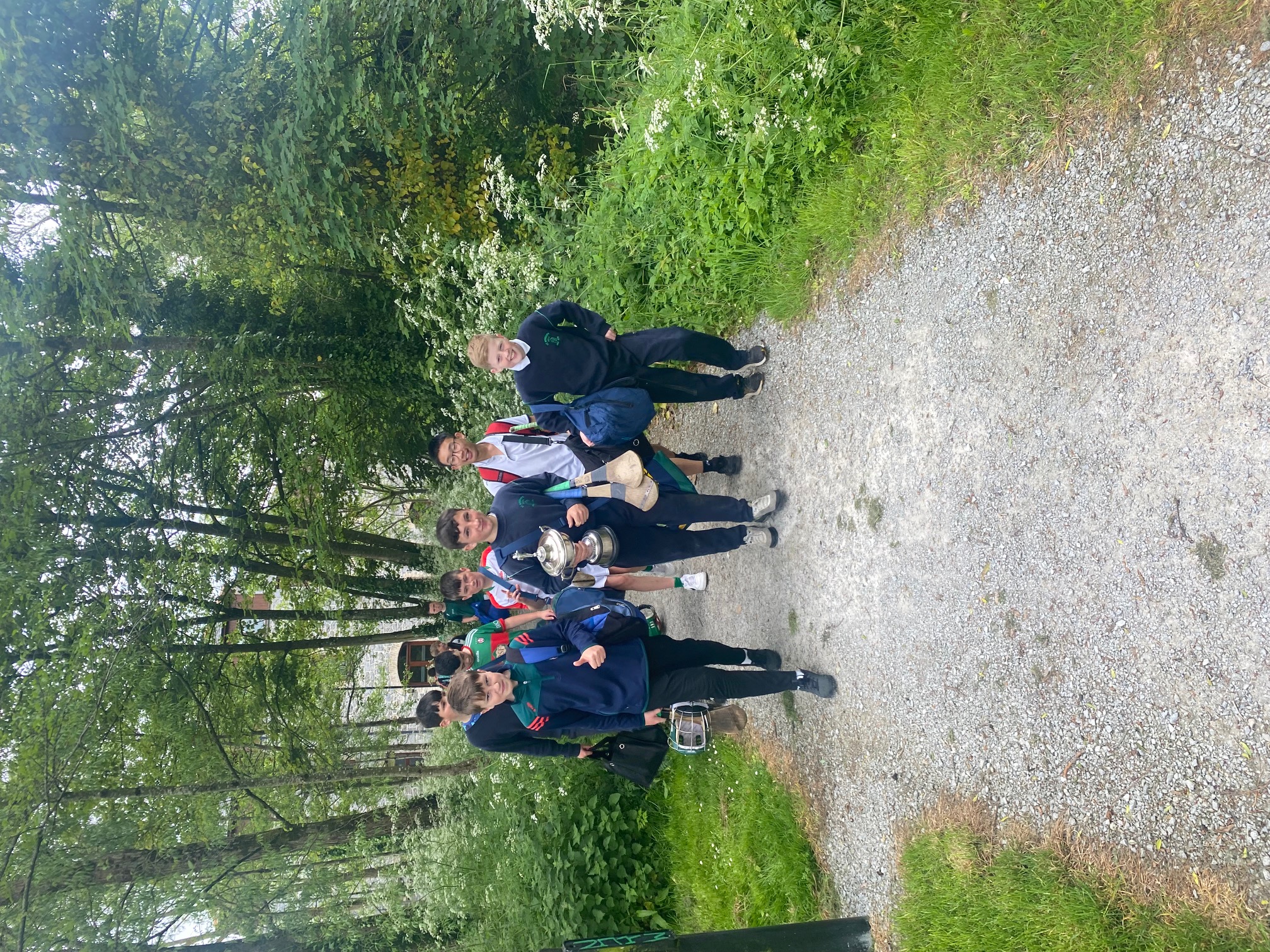 May 28, 2023
This week we sent off a cheque for €1,400 to Pieta House. Many thanks to our hardworking boys on the Amber Flag Committee for leading this initiative throughout our school and to all who supported us in our fundraiser 🧡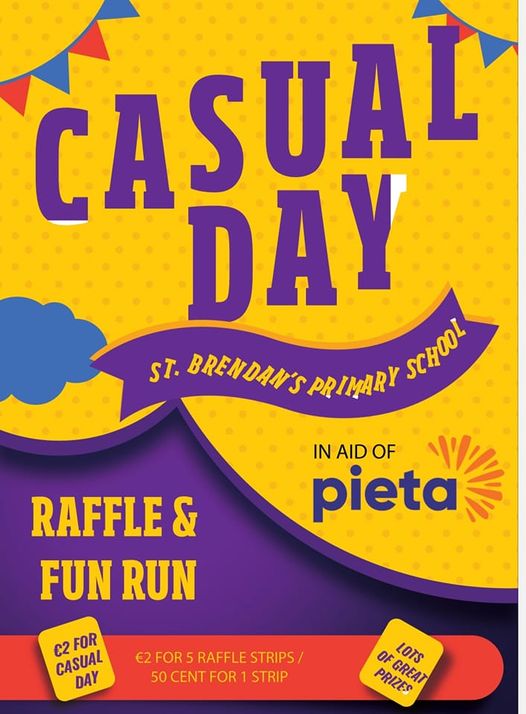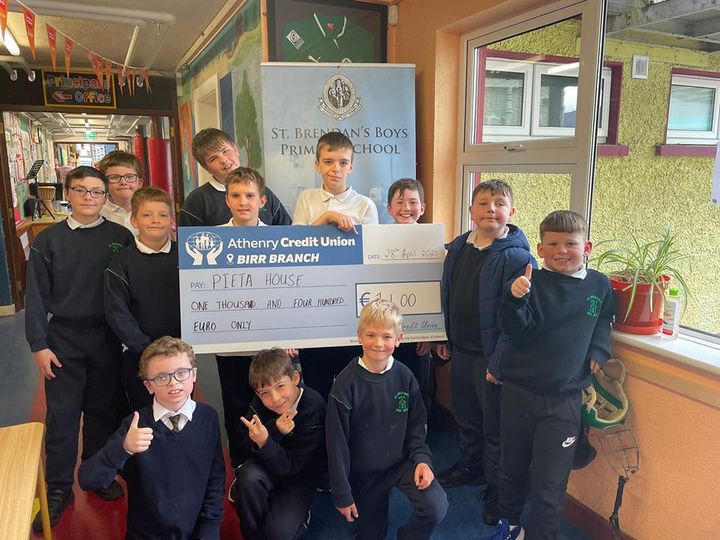 May 28, 2023
5th class had their first writing workshop today with author Shane Hegarty. Huge thanks to Shane for travelling all the way down from Dublin to share his skills with us. The boys had some great ideas for their stories and we are looking forward to the next 2 workshops! ✏️📝📚
Offaly Libraries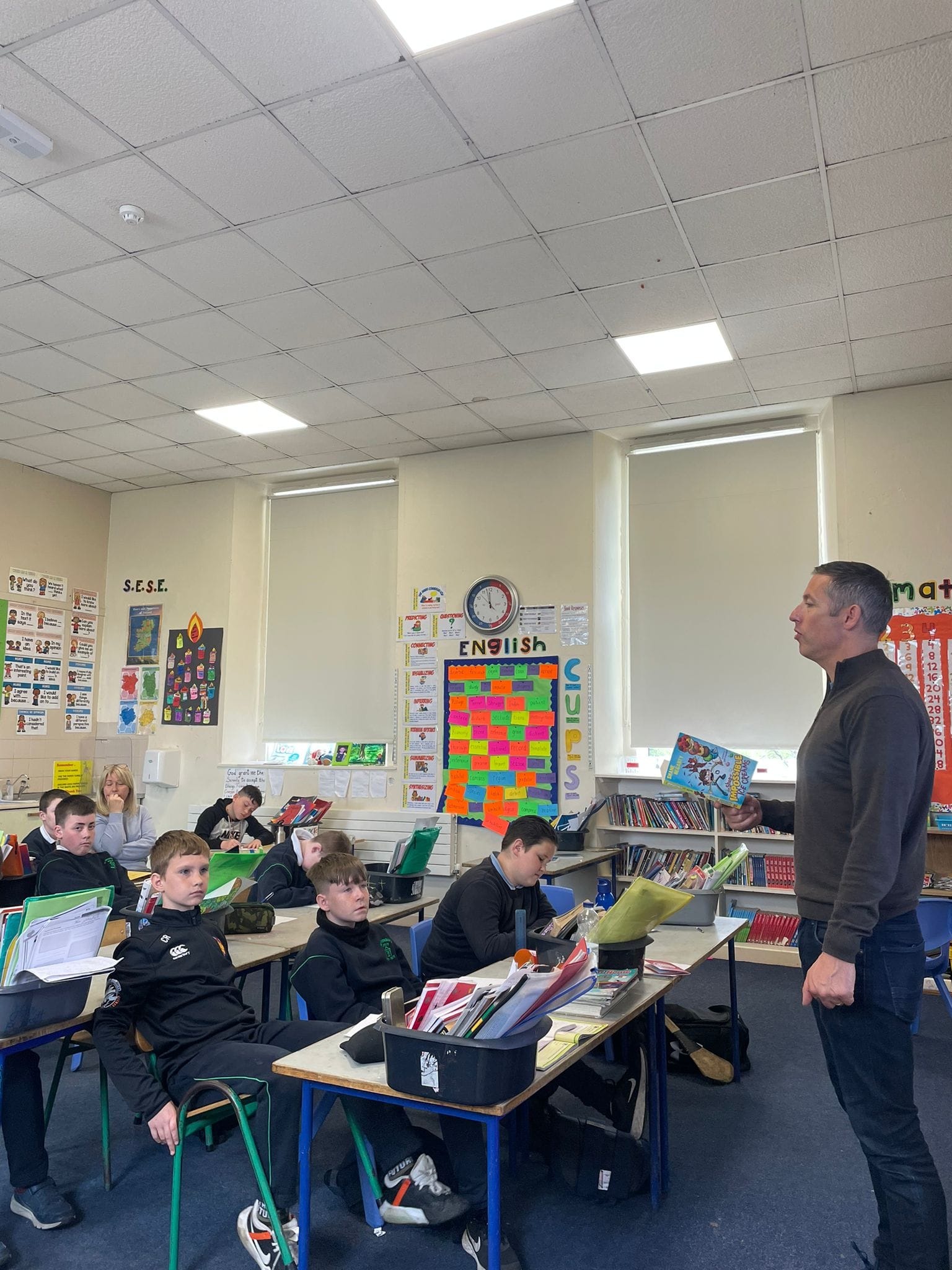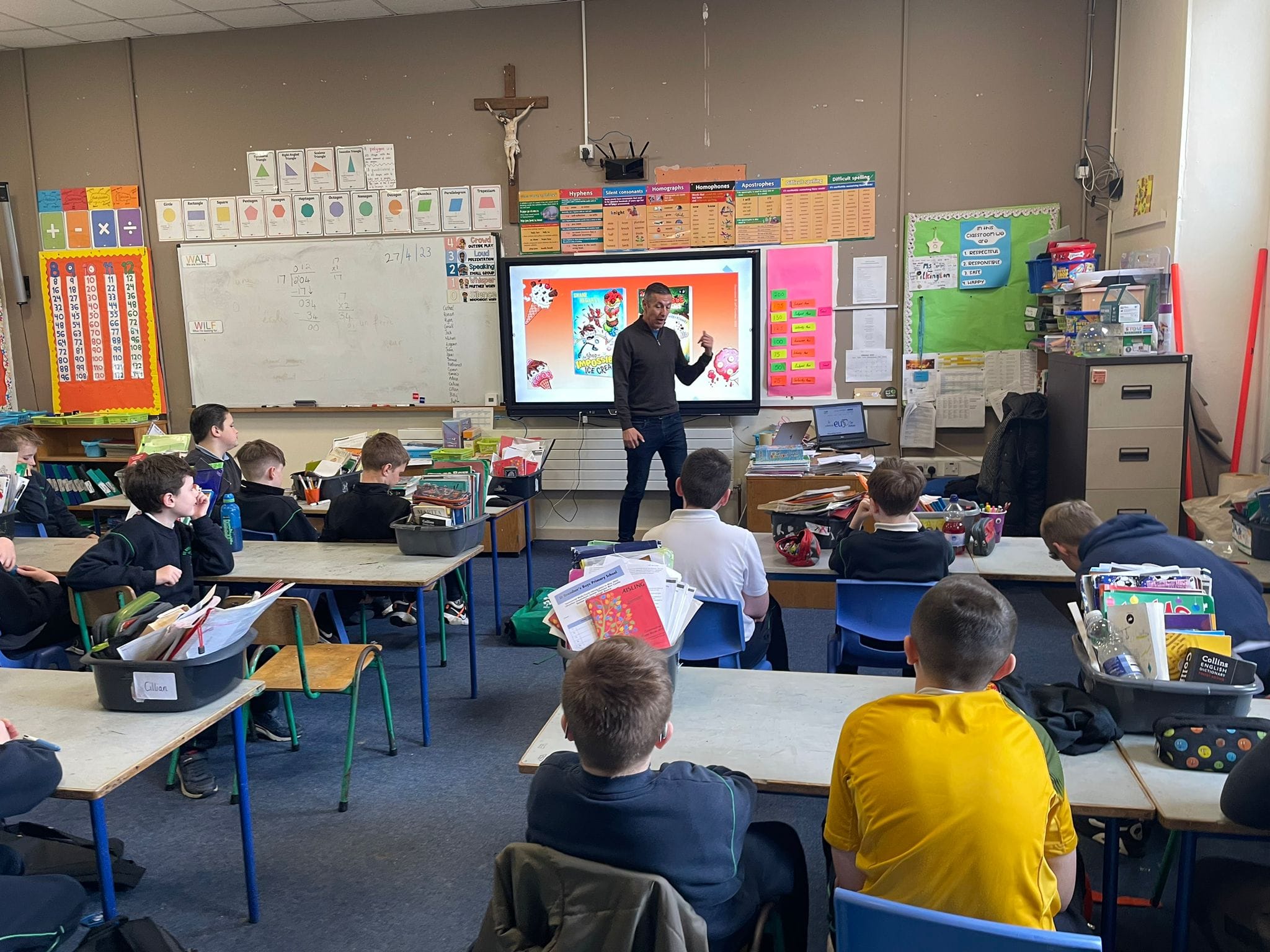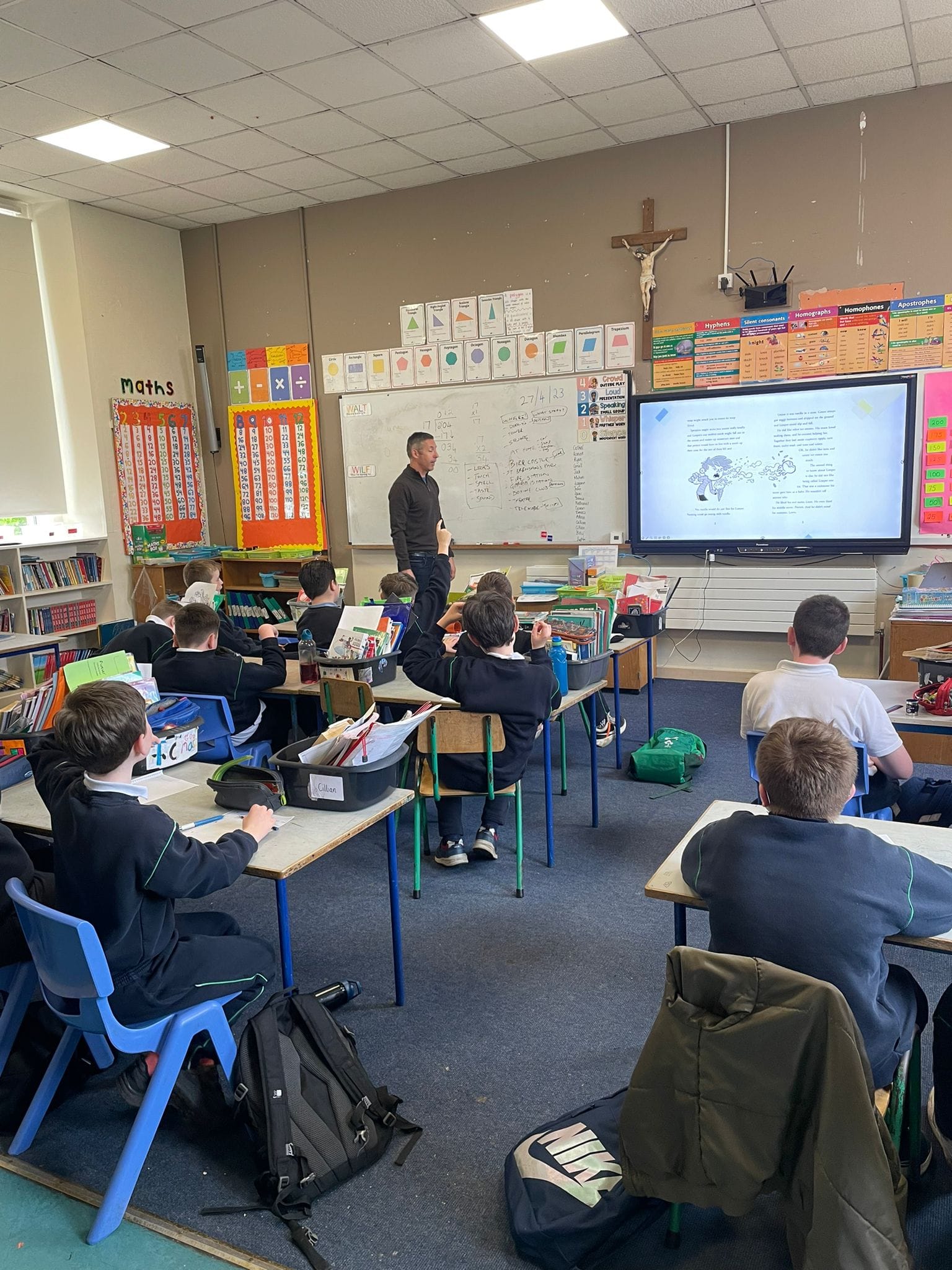 May 28, 2023
Fantastic to have " French " being taught to all our boys in 3rd -6th classes this term with Ms Abidi- great opportunity to dev an appreciation and interest in a European language thanks to the say yes to languages programme 🙌 @langsconnect_ie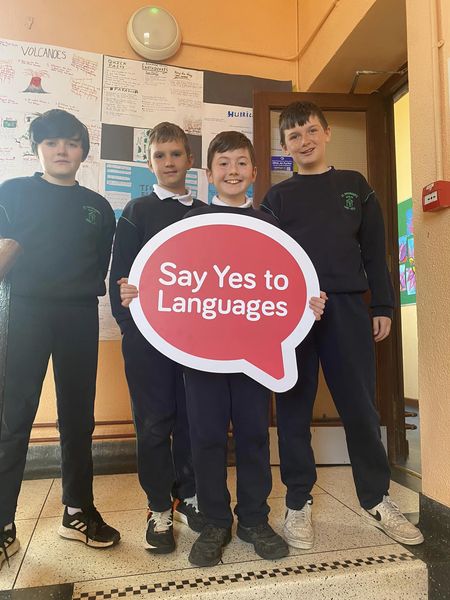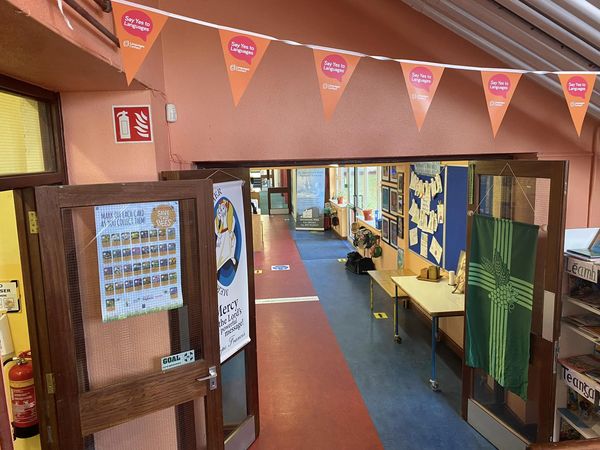 March 31, 2023
March 31, 2023
24 boys from 5th and 6th represented our school today in Tullamore for FAI Offaly 5 aside competition. The boys were delighted to wear the school jersey with pride and had a very enjoyable day.Thanks to Mr Cunningham and Ms Grace for travelling with the team.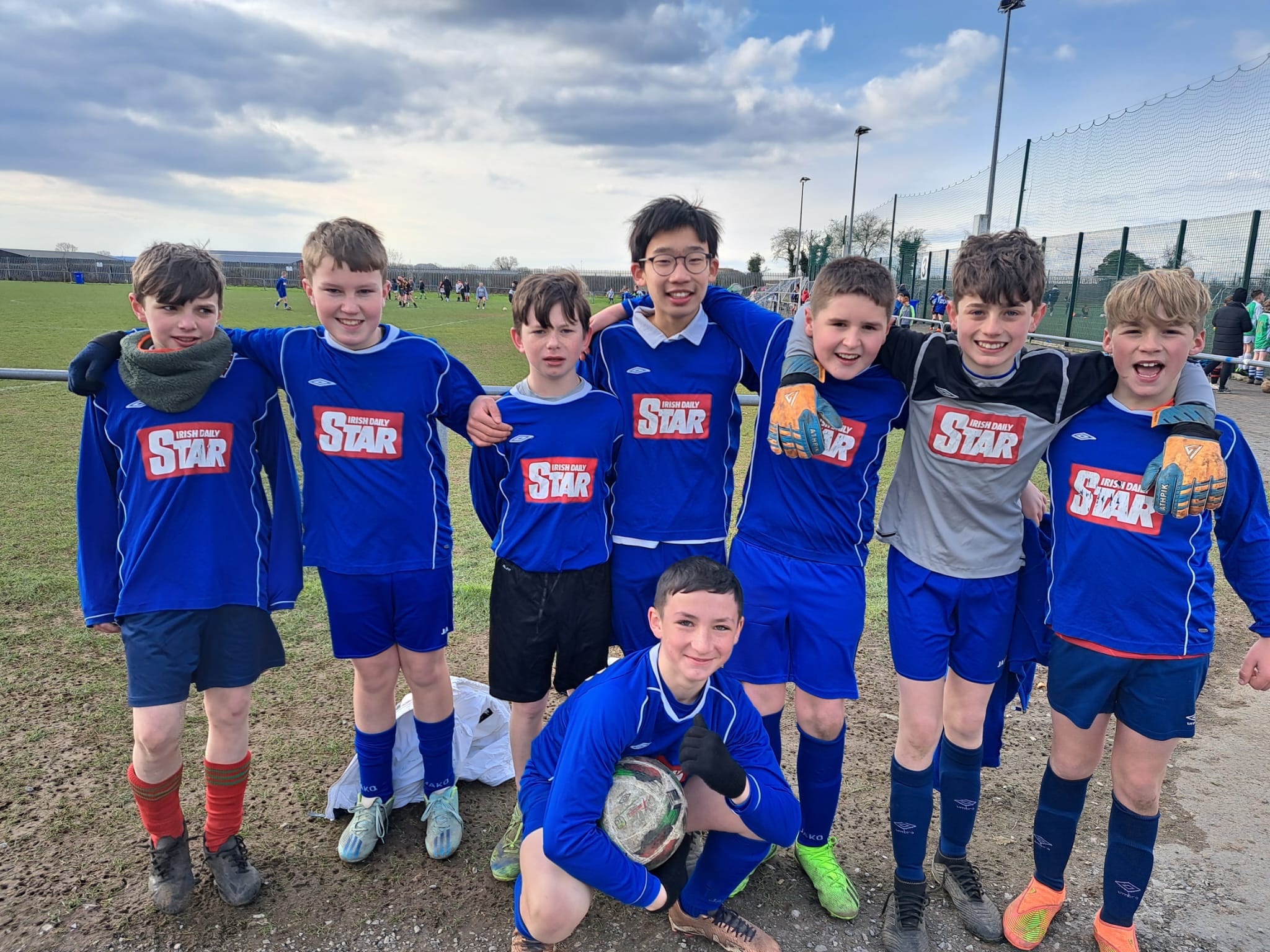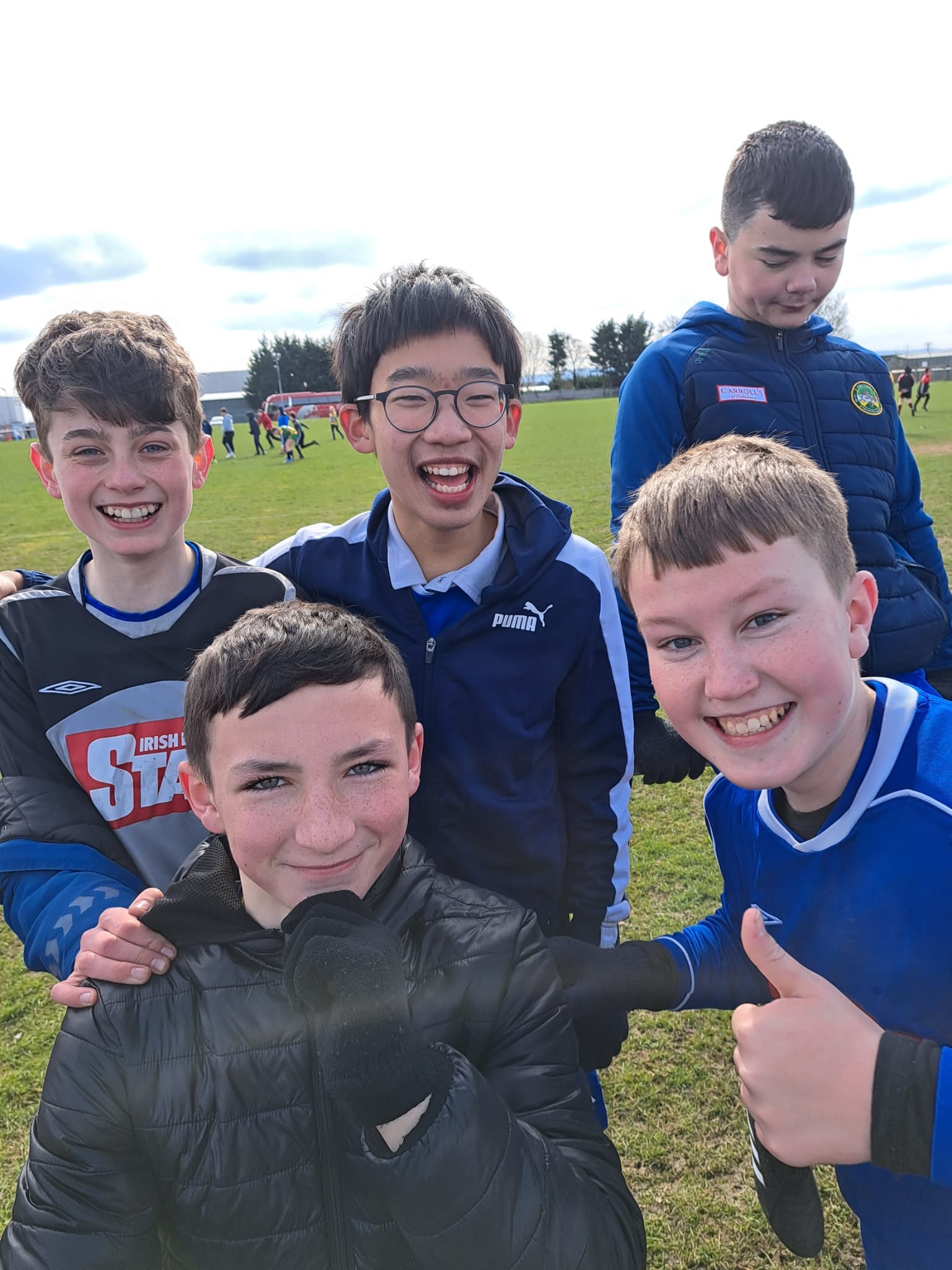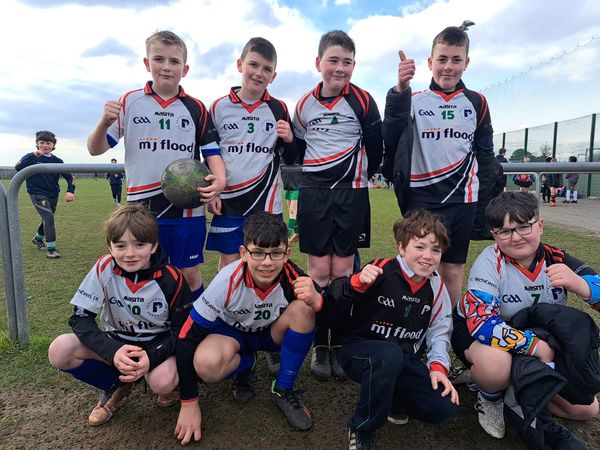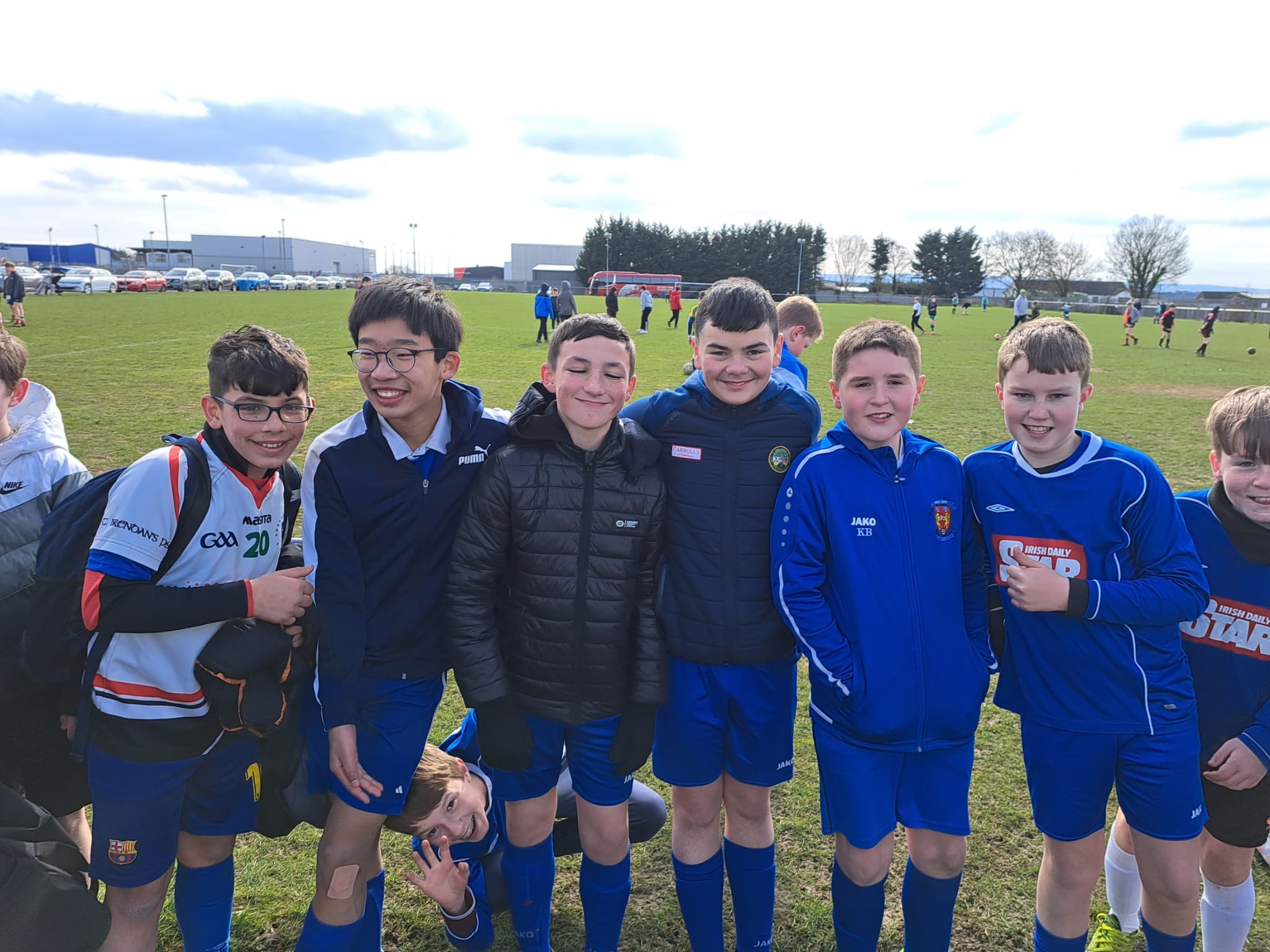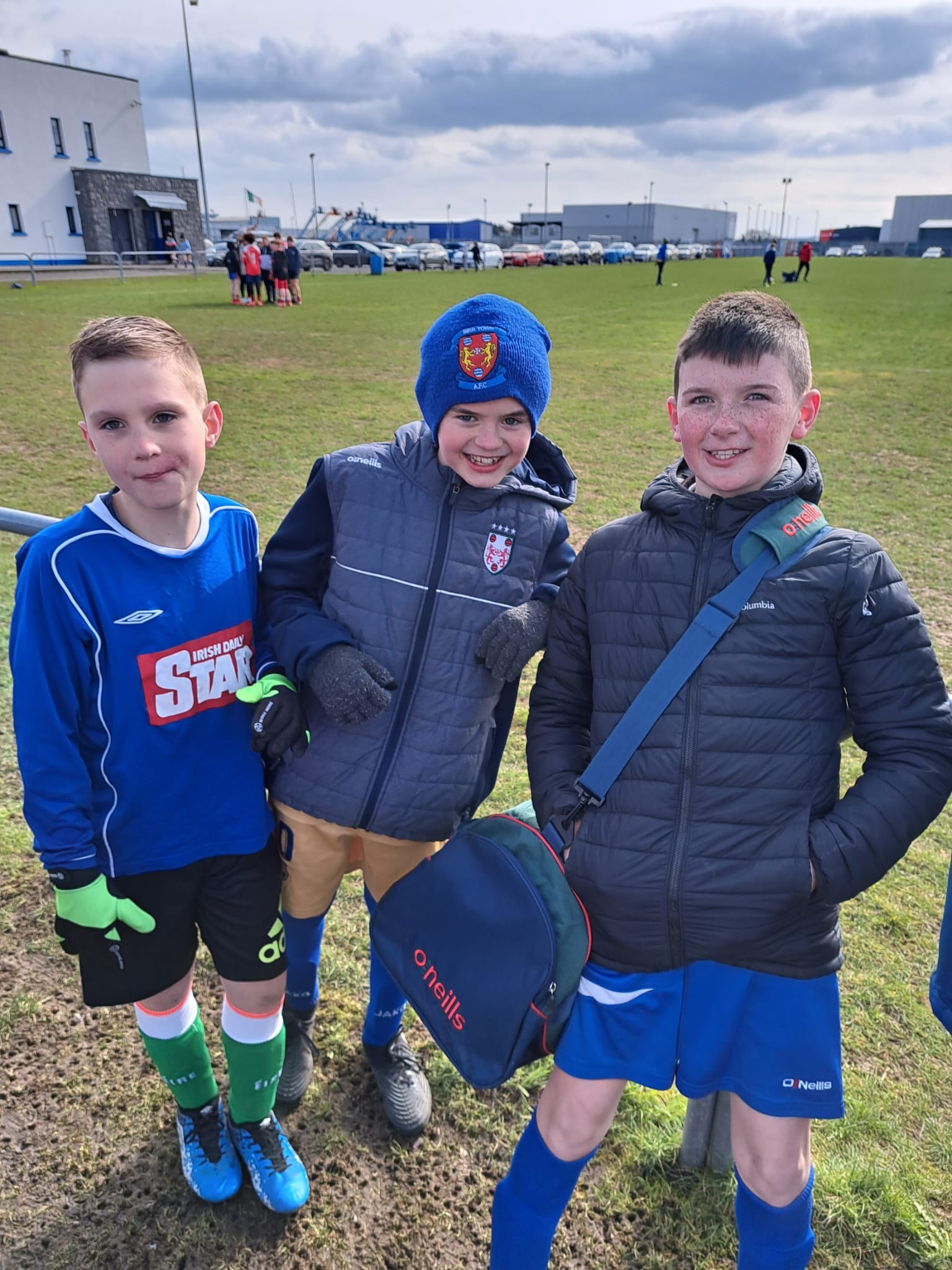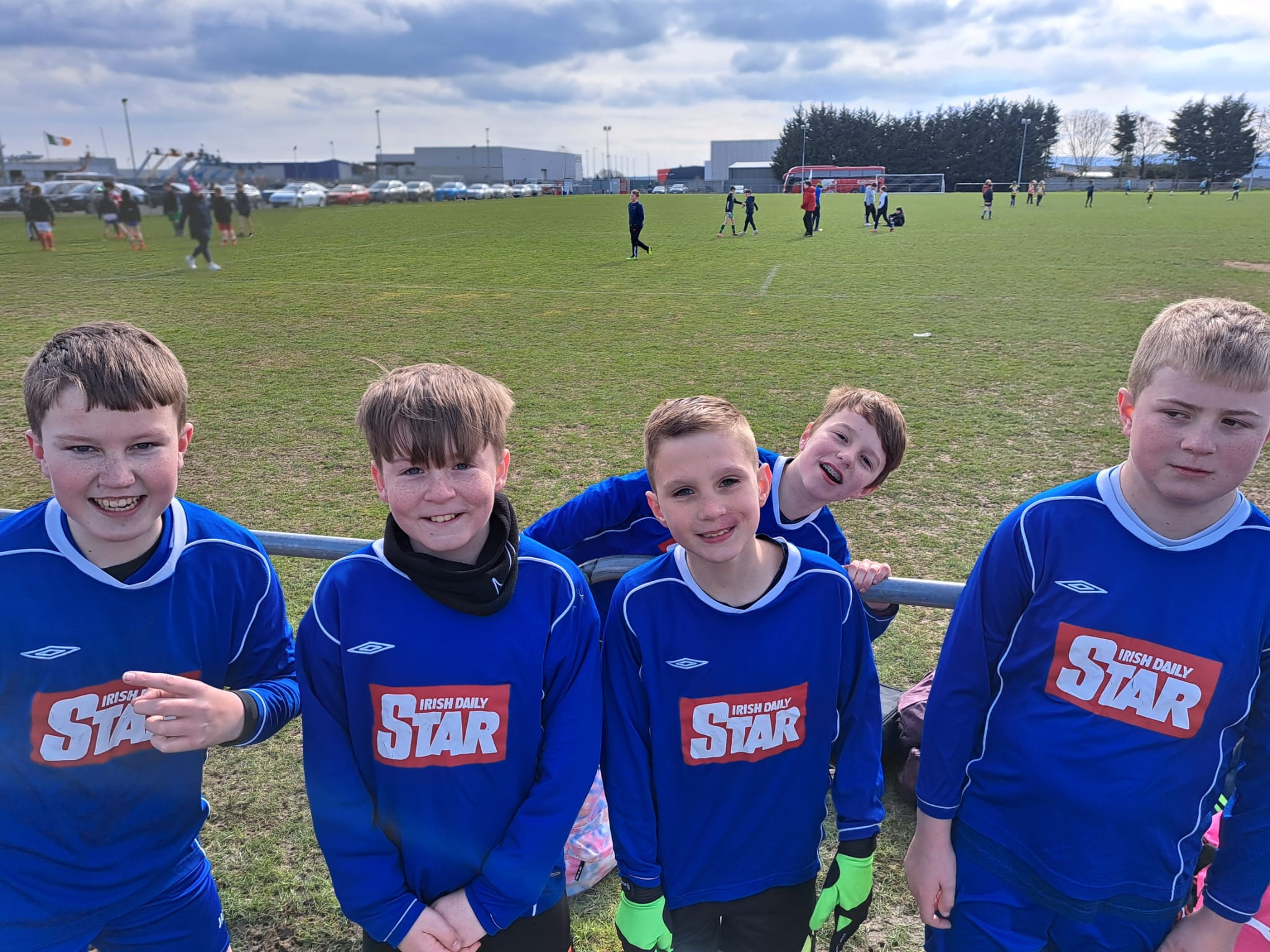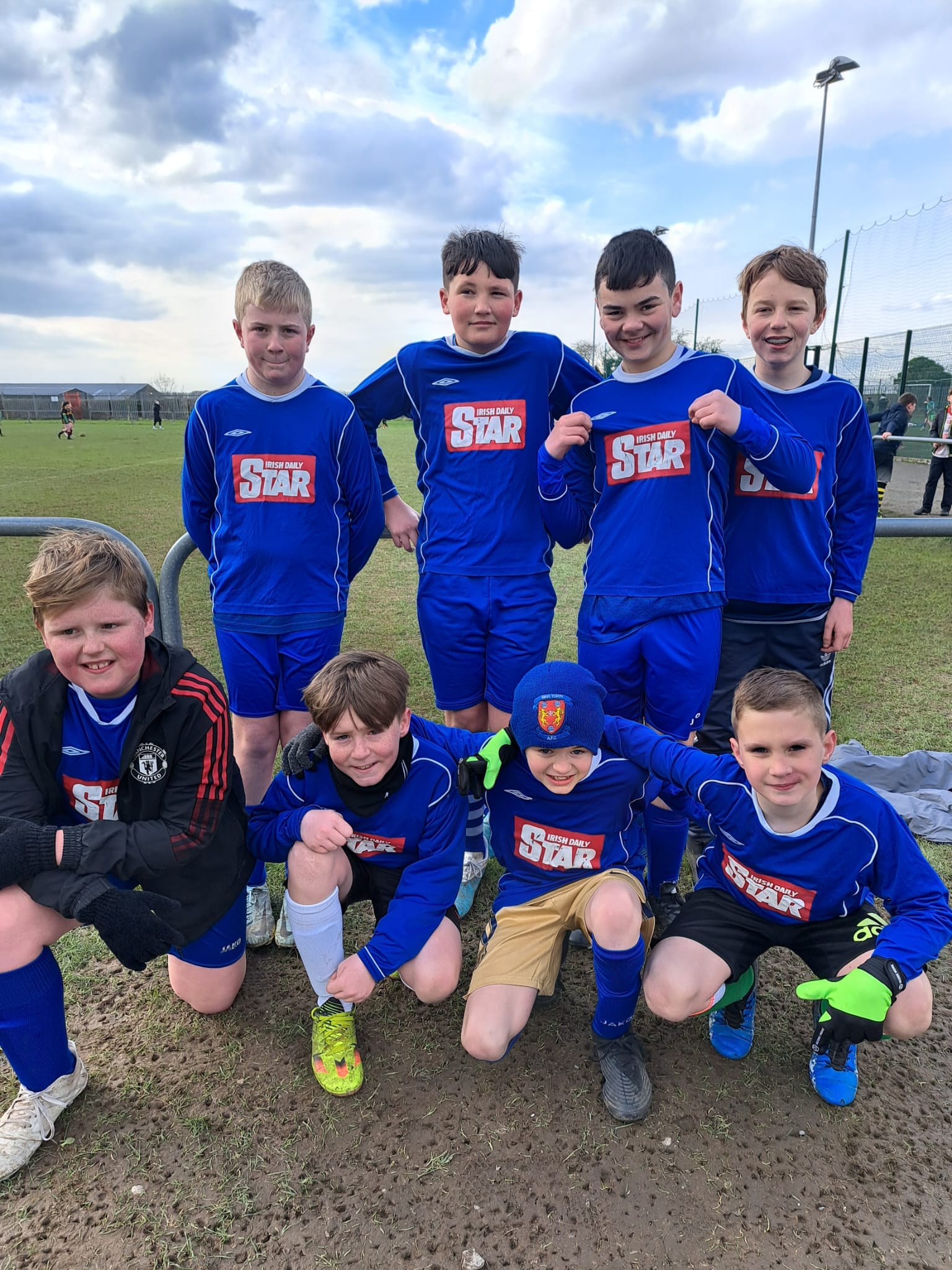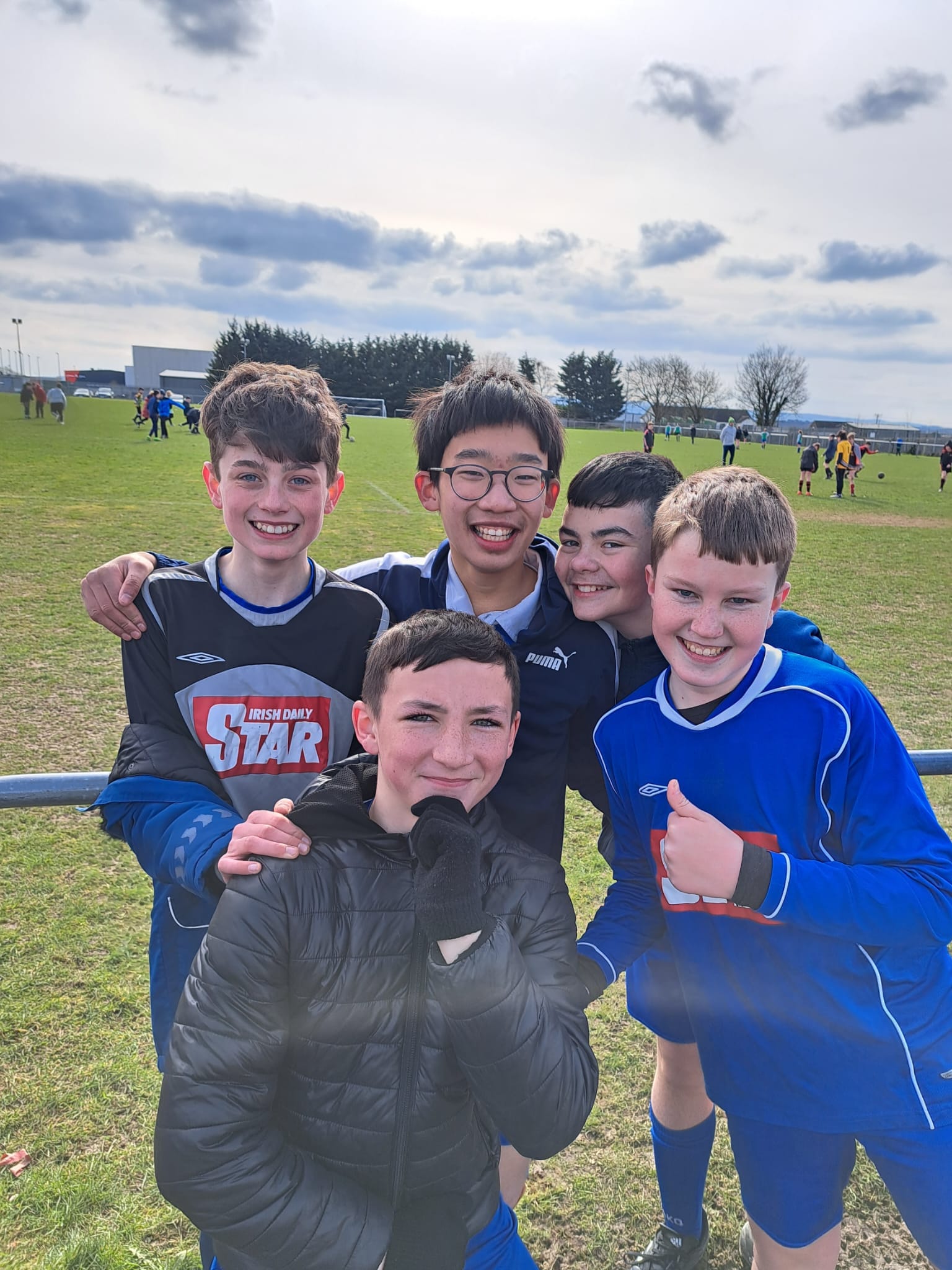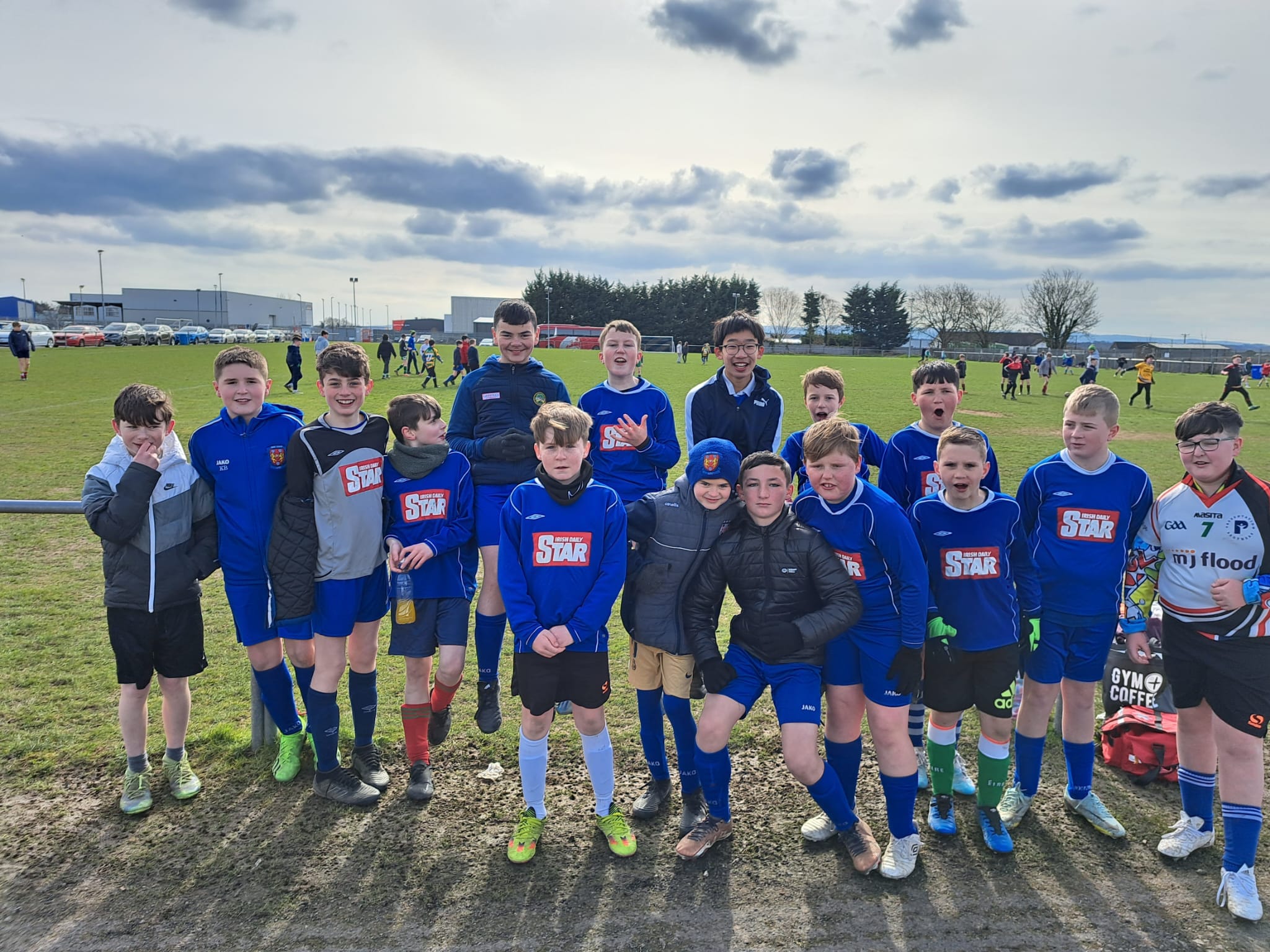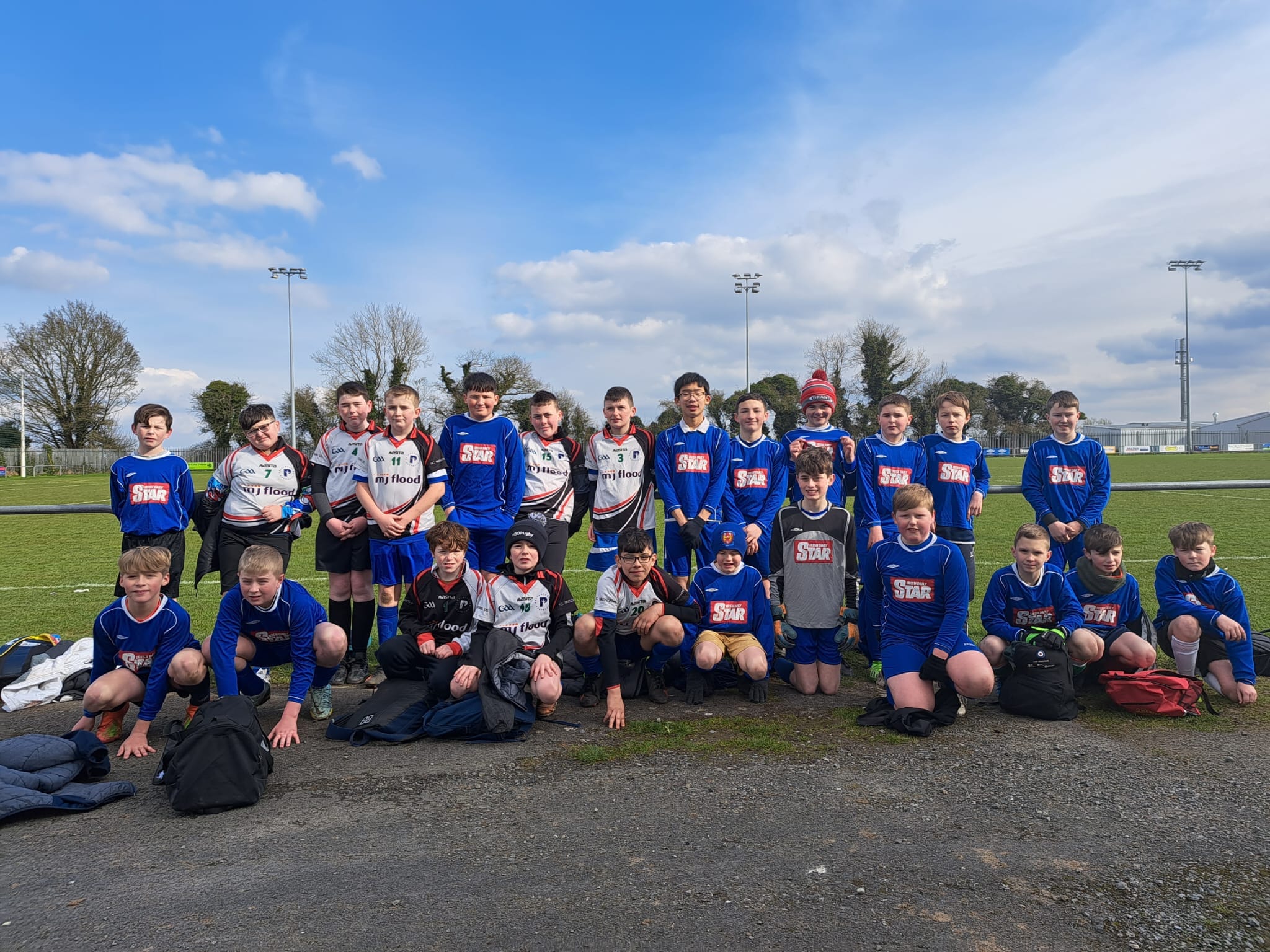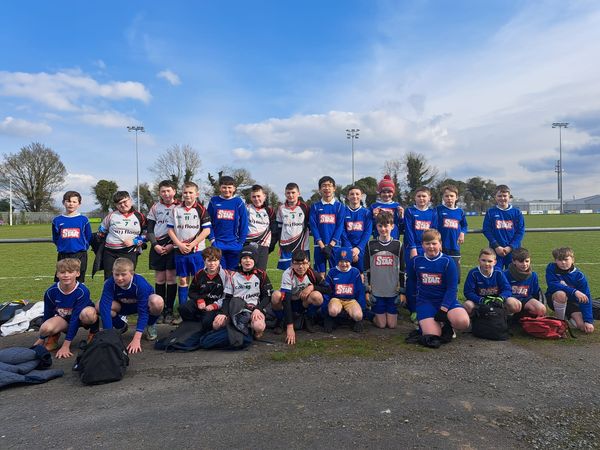 March 31, 2023
A huge thanks to Kieran Hoctor Smyth who visited us for Engineers Week and worked with Junior Infants, Seniors, First and Second Classes. The boys thoroughly enjoyed the visit especially his son Fionn and nephews Darragh and Shane Ryan who were so proud to welcome him into their classrooms. A fabulous way to mark Engineers Week!!