Category: 'Parents' Association'
St Brendan's PS Birr – Class of 2020
We were so proud to say a huge thank you and congratulations to our 24 boys from 6th class last Wednesday night as they "graduated " primary school.
In light of NPHET recommendations we held a " virtual Graduation " via ZOOM which was a great success.
The boys all wore their special " Class of 2020 " hoodies which were purchased for them all by our generous Parents Association and BOM.
Niall Crofton
(Principal Teacher)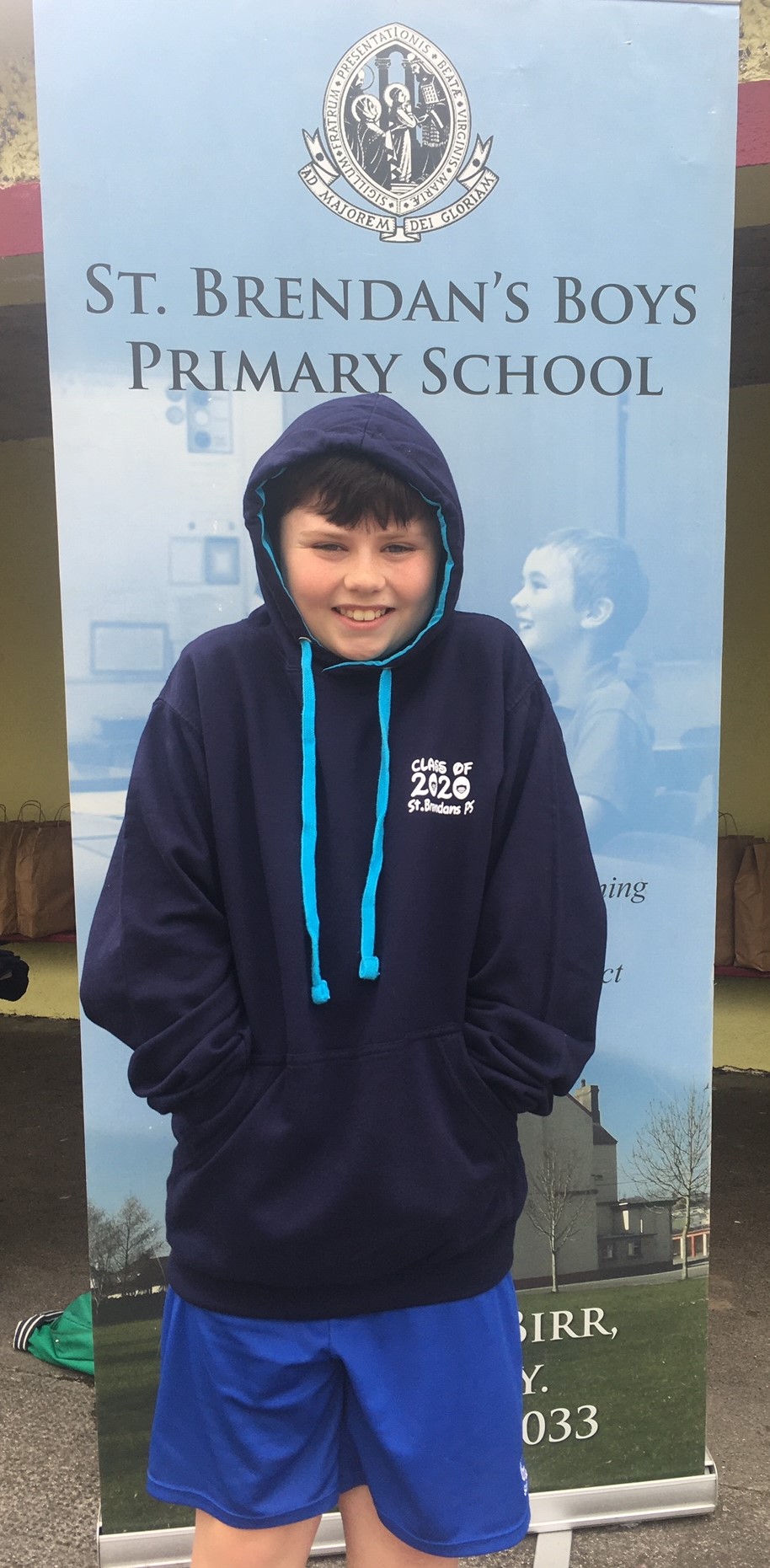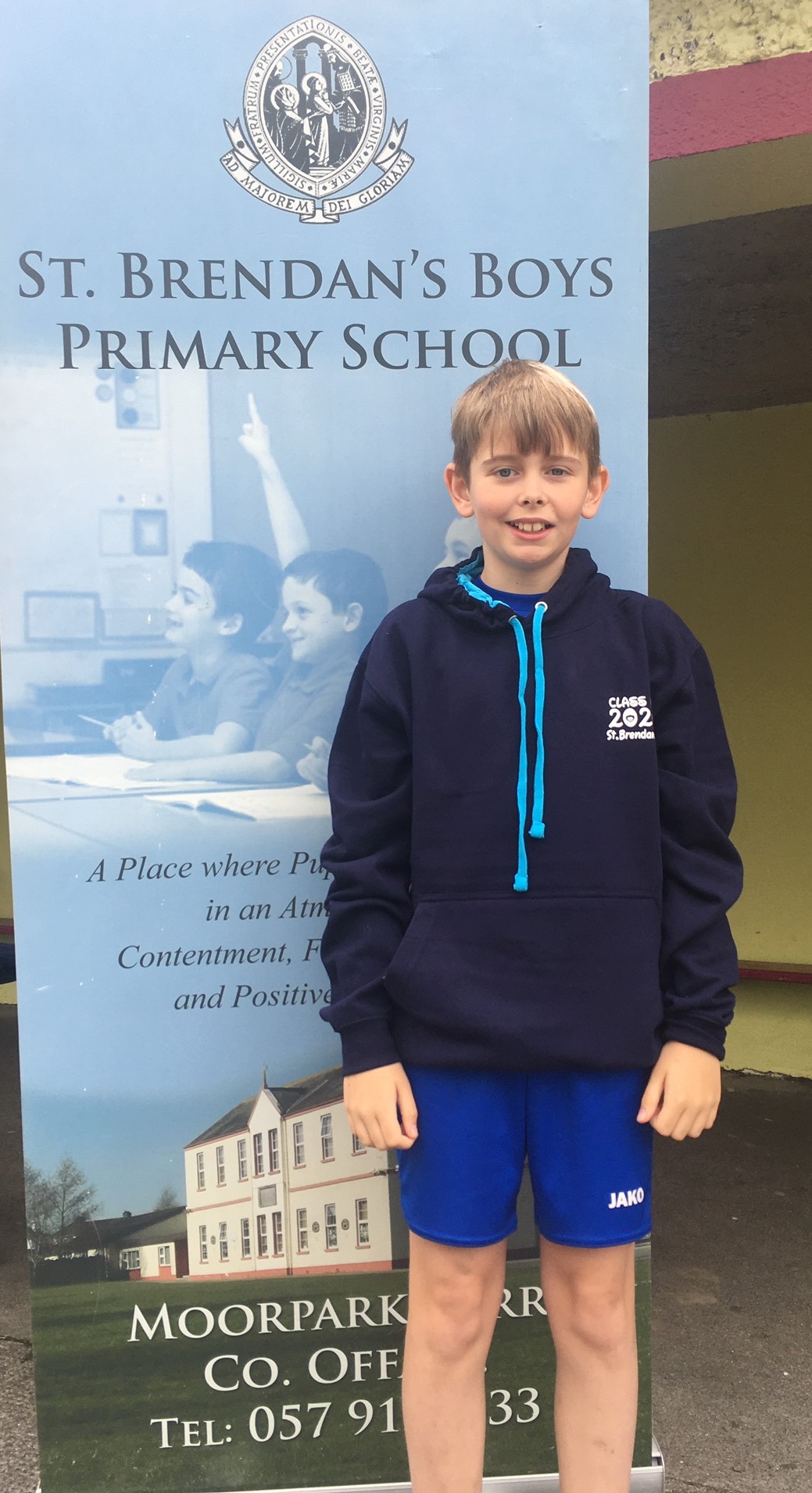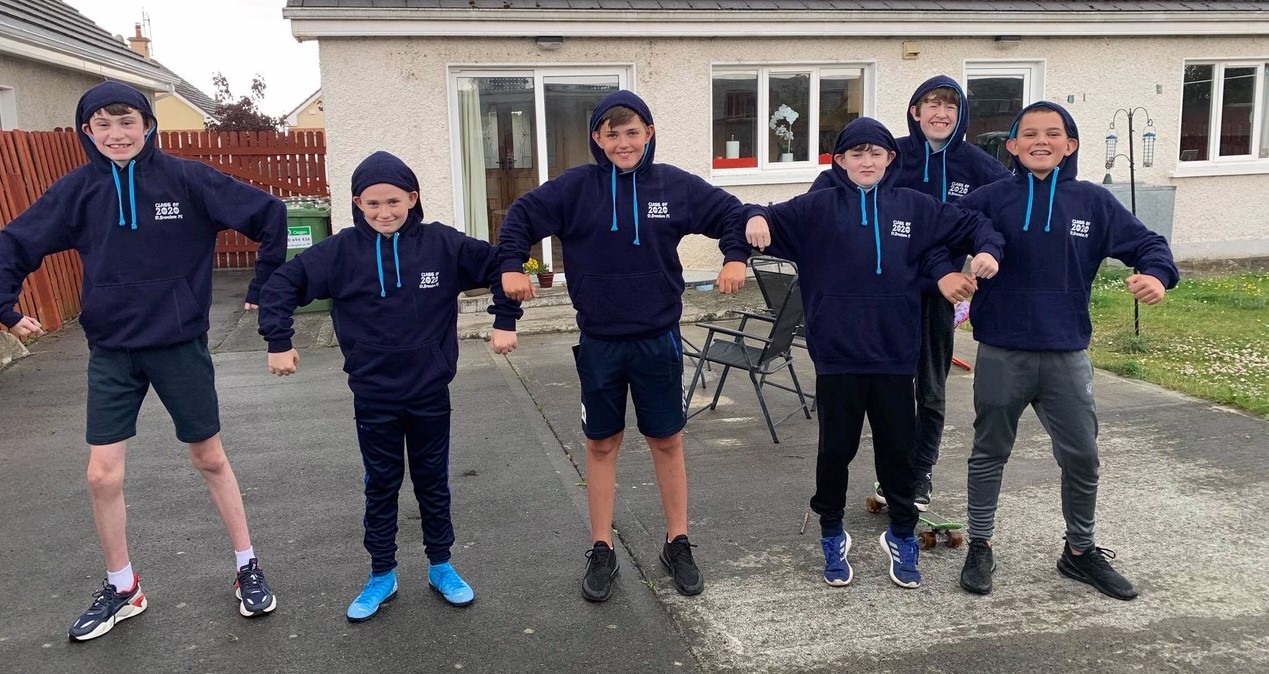 St Brendan's PS Birr – Class of 2020
We were so proud to say a huge thank you and congratulations to our 24 boys from 6th class last Wednesday night as they "graduated " primary school.
In light of NPHET recommendations we held a " virtual Graduation " via ZOOM which was a great success.
The boys all wore their special " Class of 2020 " hoodies which were purchased for them all by our generous Parents Association and BOM.
All were welcomed the large crowd who logged on with passwords and thanked for adapting to use technology for this event.
Mr Crofton then shared a video montage of their photos from the past 8 years and their great activities from this year ( See our YOU TUBE channel)
The boys and their wonderful families heard some words of wisdom from Ms Lena Grace ( class teacher ) and Mr Niall Crofton ( School Principal).
The boys were thanked for their good example and leadership especially during the COVID19 closure where 6th class boys really engaged with school learning activities through SEESAW.
Their stats for May/June were incredible with 79% engagement and 1657 activities / journal entries. Setting the standard and leading from the front !
Mr Cunningham then shared the reflective and thought provoking story of the Pencil / pencil maker.
The boys then shared some of their best and favourite memories with the virtual crowd which was lovely.
Ms Dani Dunne ( SCP) then congratulated the boys on completing a great transition programme this year and wished them well next year at their new schools.
Finally the boys decided to become the 1st ever class at St Brendan's to create a TIKTOK movie –
We showed their contributions to great fun and laughter.
All that was left was to wish all a safe and happy summer and we will meet for part 2 of the Graduation in late August ( NPHET allowing of course).
The boys will share their traditions hero projects and speeches with the outside crowd for this long standing tradition that hopefully not even COVID19 can stop !
Best wishes to all our school community for the summer break, NC
https://youtu.be/bCpcFTtrJn0 6th class 2020 – Photo movie of their past years at St Brendans PS
https://youtu.be/1aghRIzTejQ 6th class TIKTOK movie !!!
Niall Crofton
(Principal Teacher)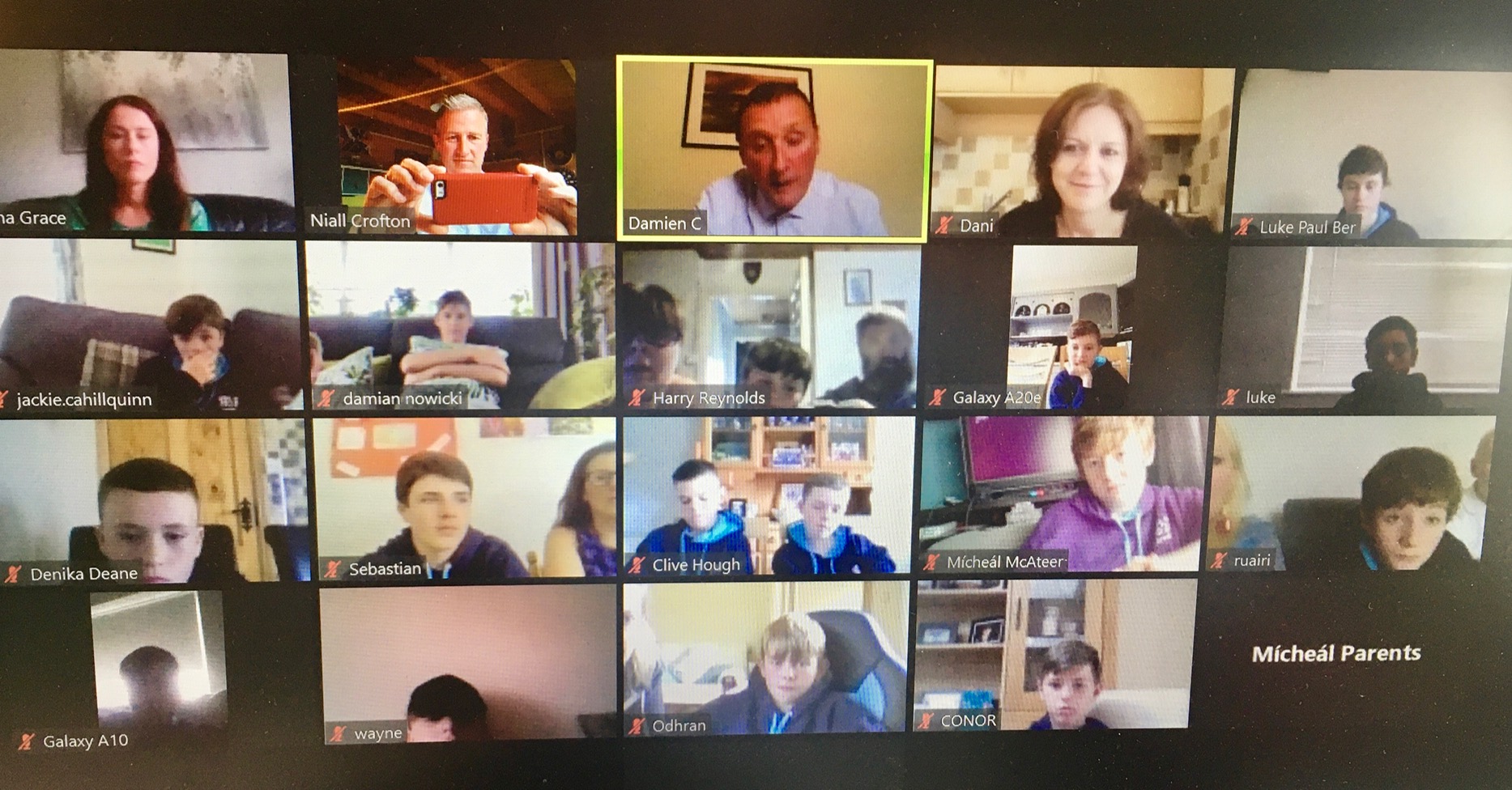 Dear Parents,
Attached is the draft of our new school admission policy. This policy was drafted in consultation with draft guidelines from DES / Patron office. Consultation was sought from PA officers and BOM members and the policy was ratified on 05/05/2020 subject to Patron approval by 31/05/2020. As with all school policies this will be reviewed accordingly by the Board of Management.
Draft Admissions-Policy St Brendan's PS Birr
Kind regards,
Niall Crofton ( Principal teacher)
In order to keep everyone safe during the operation of this book collection we ask parents to read the following :
Collection times are staggered:
• 9.30-10.00am – Junior Infants
• 10.00-10.30am- Senior Infants
• 10.30am-11.00am- 1st class
• 11.00-11.30am – 2nd class
• 11.30am-12.00pm- 3rd class
• 12.00pm-12.30pm- 4th class
• 12.30-12.45pm- 5th Class ( Ms Pilkington math group)
6th class have books given out already.
Cairdeas 1 / 2 / MGLD – can be collected at any slot ( some teachers are emailing directly)
Do not come to school if you have been advised to self isolate or have COVID 19 symptoms.
Wash hands / wear gloves before coming.
Front gate of school will be open so just drive up the yard to park outside the PE hall windows.
One adult ( no kids) asked to come up to the hall window and give in the name of pupils and class.
Staff member ( wearing gloves) will collect from table in the hall and hand out the window to you.
We only have a few staff in hall to avoid social gathering so please be patient.
Please pack up and leave then as we want to avoid any social gathering.
Please wear gloves and wash hands when you go home.
A number of staff are in self isolation with themselves or family members presenting with symptoms so the few staff that have volunteered to come in and create / organize packs and distribute packs are much appreciated by the Board of Management and school community.
Thanking you all, Niall Crofton ( school principal)
Dear Parents of St Brendan's PS Birr 26th March 2020
As outlined in our recent text message the TAOISEACH has directed all schools to remain closed until April 19th at the earliest as the whole country tries to do its bit to stop the spread of COVID19 and save lives. We have spent this week planning for the new phase in this closure and how we can support our pupils through distance learning which we (like the majority of primary schools) have not been set up to operate. Each school is different in its context and we are confident of our plan going forward.
Tomorrow (Friday 27th March), our teachers will operate a book collection for families who wish to avail of this. This is not a signal from us that you have to turn your home into a mini school. Don't over worry about your child's learning. Worry about your children. They need your love, your calm, your courage, your sense of humour, your patience and your gentleness. The rest will take care of itself.
Teachers sent home work-packs back on Thursday 12th March which were to keep some routine and learning going for 9 school days until Monday 30th March. These school books that we are giving out now will help support each pupils learning for another week. Then we have Easter holidays but we feel that schools may not open again until May so we need to be able to support distance learning until we return whenever that happens.
• Book collection times and safety advice- see website / Facebook page
• Work plan for classes- To be posted onto DISTANCE LEARNING section of school website.
• Teachers contactable via new school email addresses.
However we also need to supply a bit of perspective. There is enough stress in the lives of parents and children without our school adding to it. With worries about health, jobs and family members the last thing we want is parents worrying about their chid falling behind with school work.
So, don't panic and turn your home into a mini school and yourself into the pretend teacher. However do try to set up the school books for an hour or two each morning where your child can work away with writing , reading , colouring and maths. This is to give them some routine away from technology as well as giving mam/dad a well-deserved break ! Then allow them to play ( keeping social distancing advice) and make sure they get fresh air and even try some of the hurling skill challenges that are going around!
Some teachers have set out apps and programmes to work with and these can be useful to try if you wish. There are also some stories and magazines available online too and each family will tailor the work to what they can do and what their child needs.
Do follow your child's interests; play their video games with them and talk about them, read and critique their History and Geography books with them, use a cúpla focal timpeall an tí, let them cook a meal with you as their assistant, pay them with real money for doing jobs around the house and garden. In the midst of all this chaos which we have been thrust into- family time; which can sometimes be bypassed in our busy lives; can be the golden light !
Dear Parents, I offer the above guidance and advice in solidarity, humility and sympathy for what you are all going through. You are the best judge of what your child needs, emotionally and educationally – not me or our staff. Please God the country as a whole will unite through these emergency measures and social distancing to stop this virus in it's tracks.
In the interim our thoughts are with you all, keep sane and safe !
Niall C and Staff.
HSCL Pumpkin Carving —Thanks to the parents who helped our 4th class have a great Halloween art activity– Mile buiochas to Ms Treacy for organising and Mercy Primary for having the boys over! Great to see so many parents turn up to lend a hand.
Fire safety at Halloween .5th and 6th classes got an information chat about bonfire and firework safety at Halloween from our community Garda Grace Heffernan. It was an excellent talk with many questions from the boys. There were some hard photos of injuries that can occur from fireworks and bonfires so we ask all our boys to stay safe this HALLOWEEN
The parents association are holding a HALLOWEEN DISCO in the Marian Hall on Thursday 1st November . 7.00-8.30pm This is a fundraiser with Mercy Primary so please come along and support. €5 / €15 family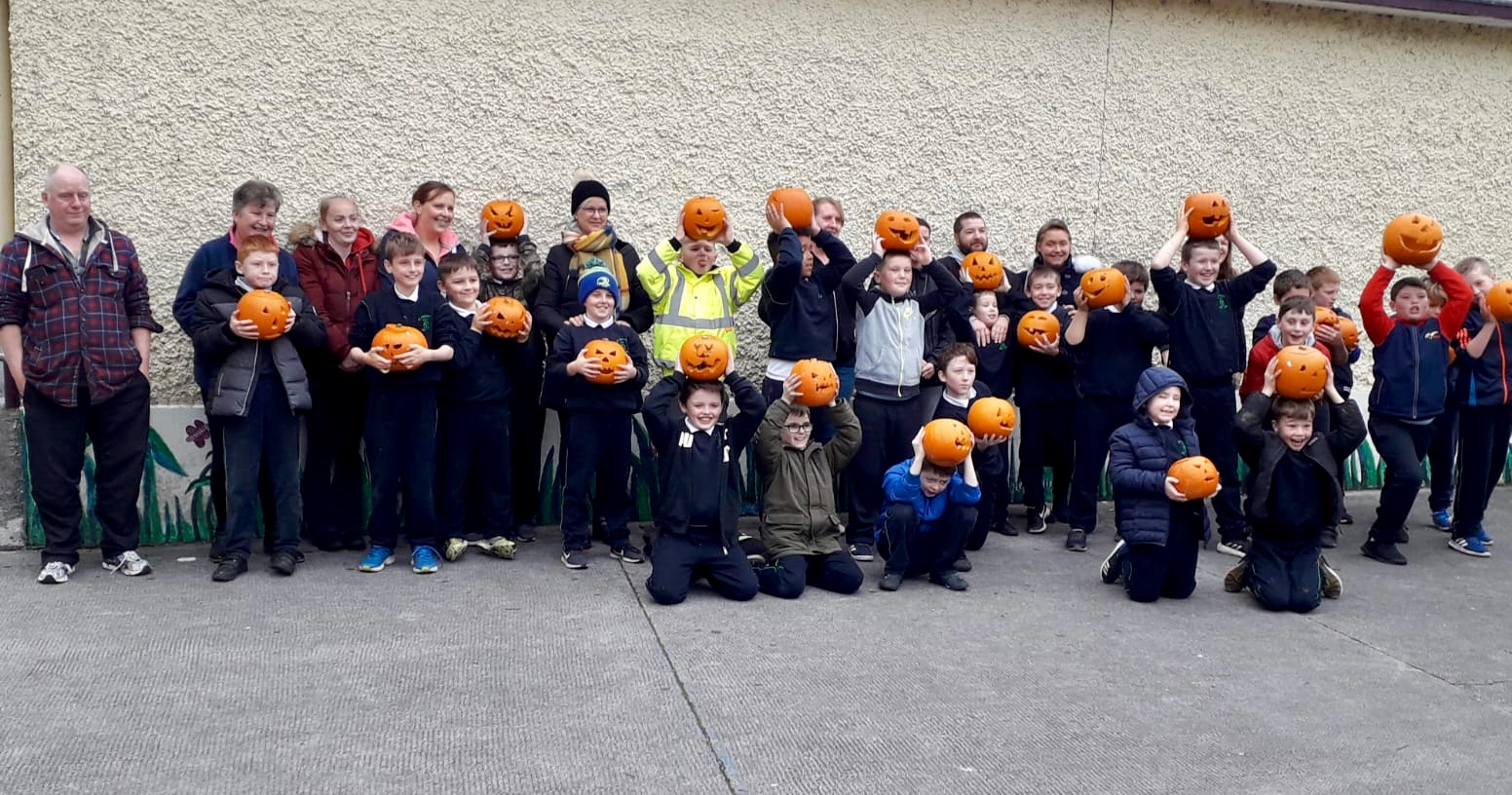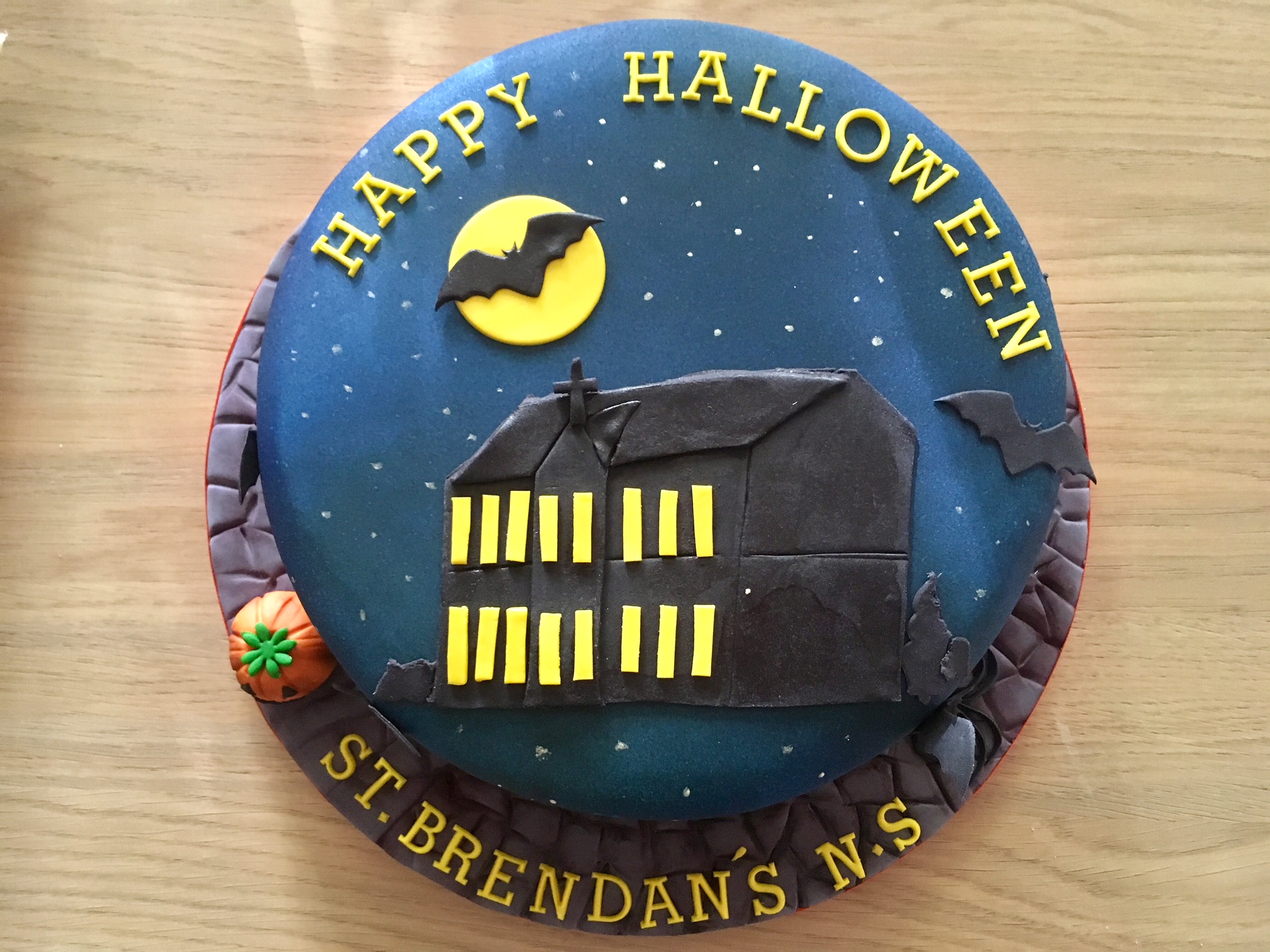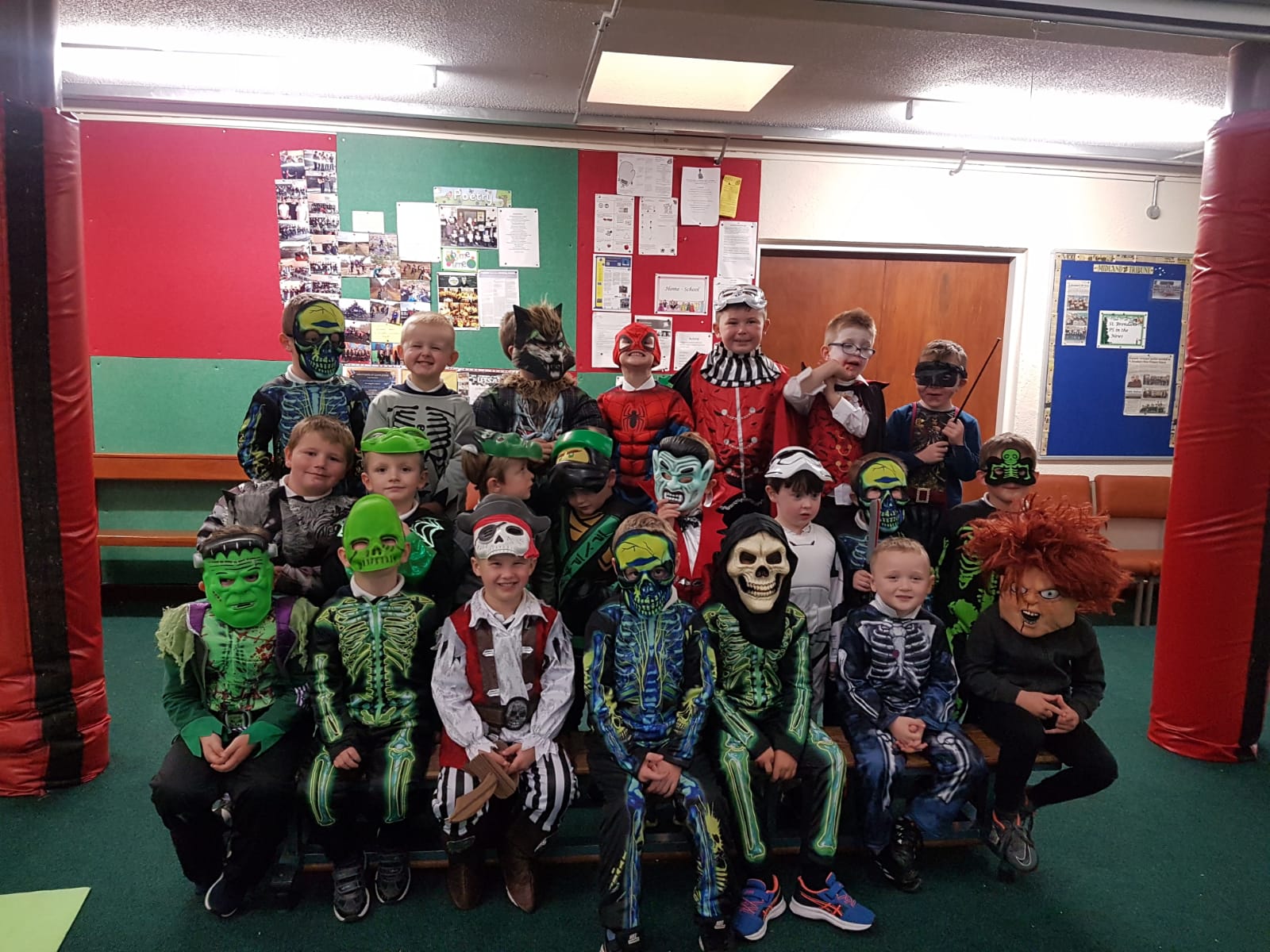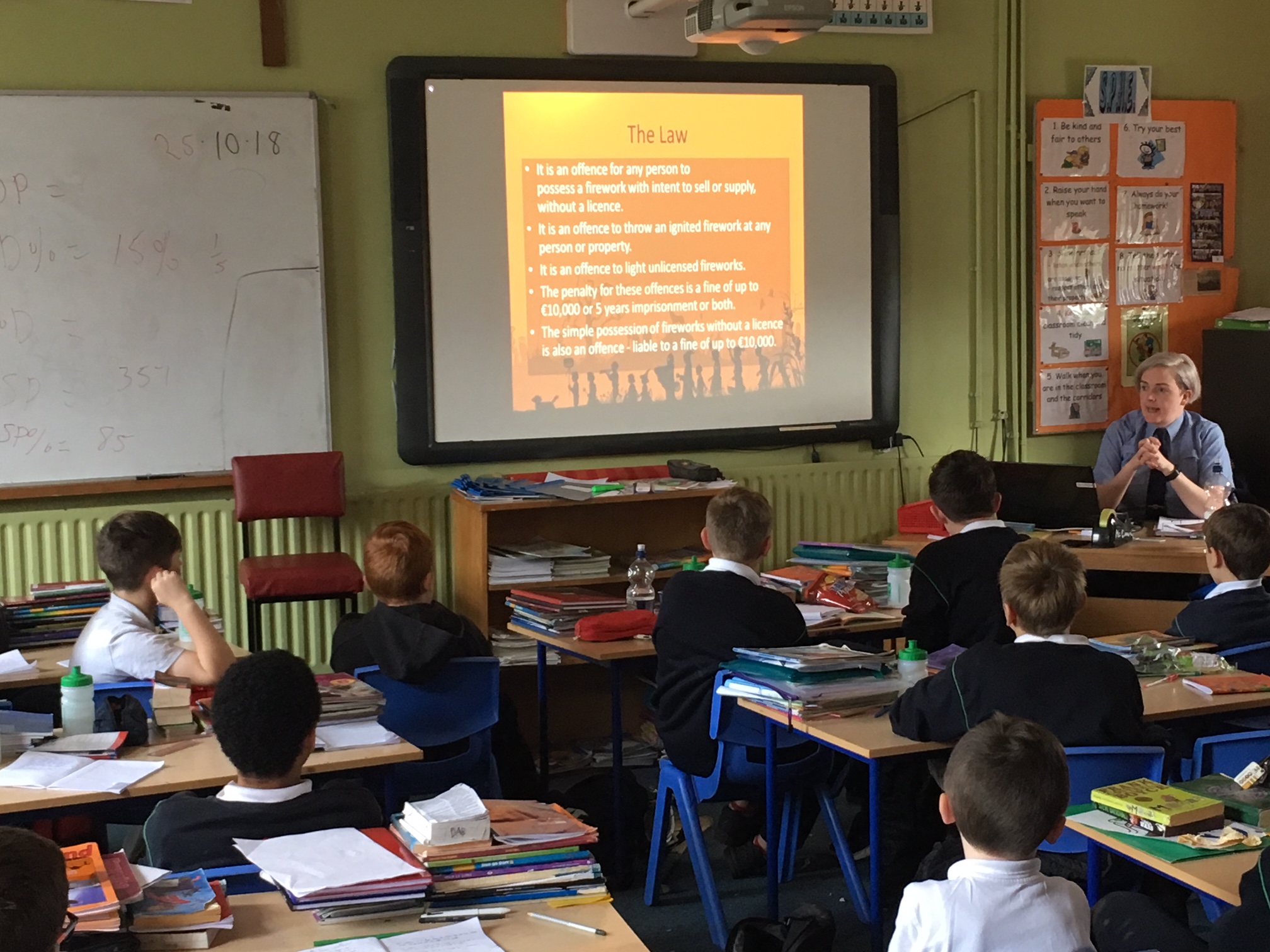 Sincere thanks to all involved for your support with the sponsored walk / cycle this year. Classes 2nd—6th went to Lough Boora for a walk or cycle and the boys all had a great day of exercise fun and adventure. Junior Classes JI-1st went to Birr Castle and got to play in the playground which was a great treat. Thanks from the school to PA officers and committee for organising and in particular to Keith and Rose Harte for their work with getting 50 + bikes out and back to Lough Boora



















Christmas 2017– We were delighted to welcome Santa to the school again this year thanks to our parents association. This year he arrived on a massive tractor and the place went wild! The Irish Independent picked up the facebook post and video and posted onto independent.ie which was great for the boys to see their school on national media.
The last week of term was filled with concerts and Christmas nativity plays which were well attended by parents and families.
The always successful Christmas Draw was held then with all details of winners posted onto PA facebook page.( Pictured are some our PA members with prizewinners) All proceeds from this will this year be spent on our school garden as we are planning a project to install more play equipment and a basket swing. More details and photos to follow in 2018 and thanks to all who supported the draw.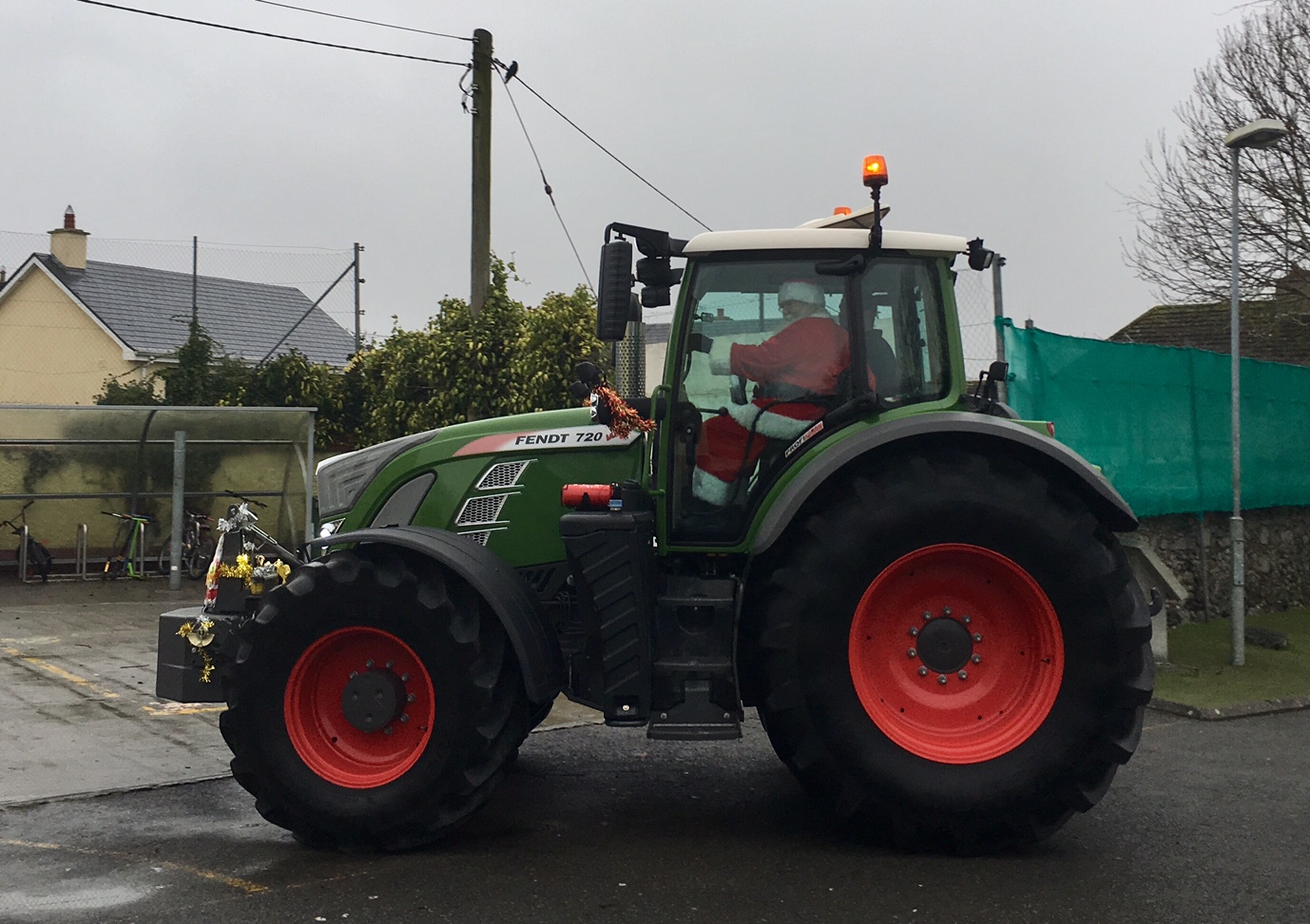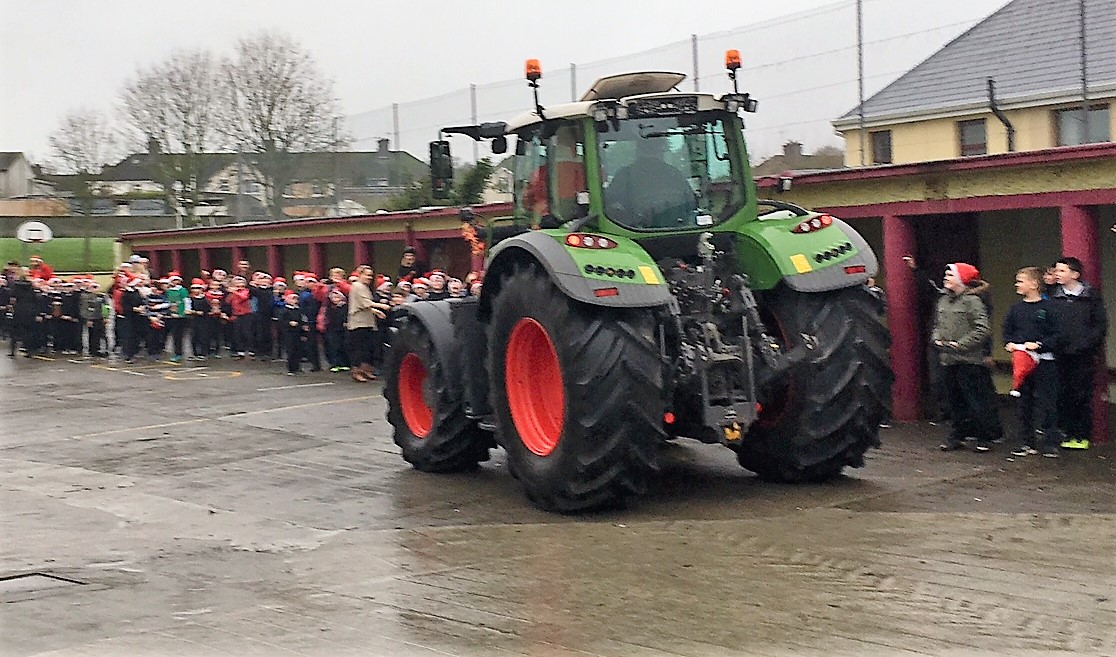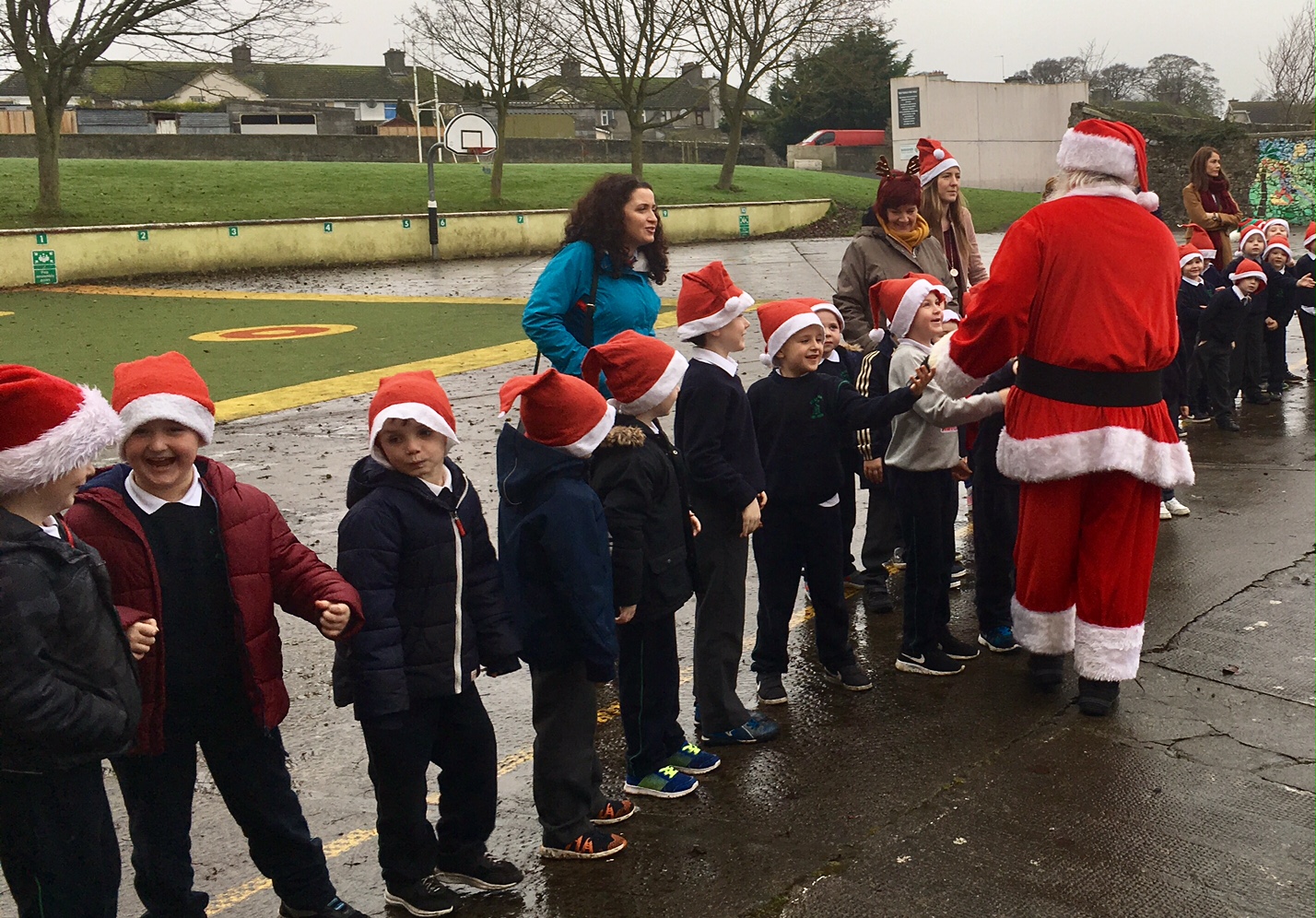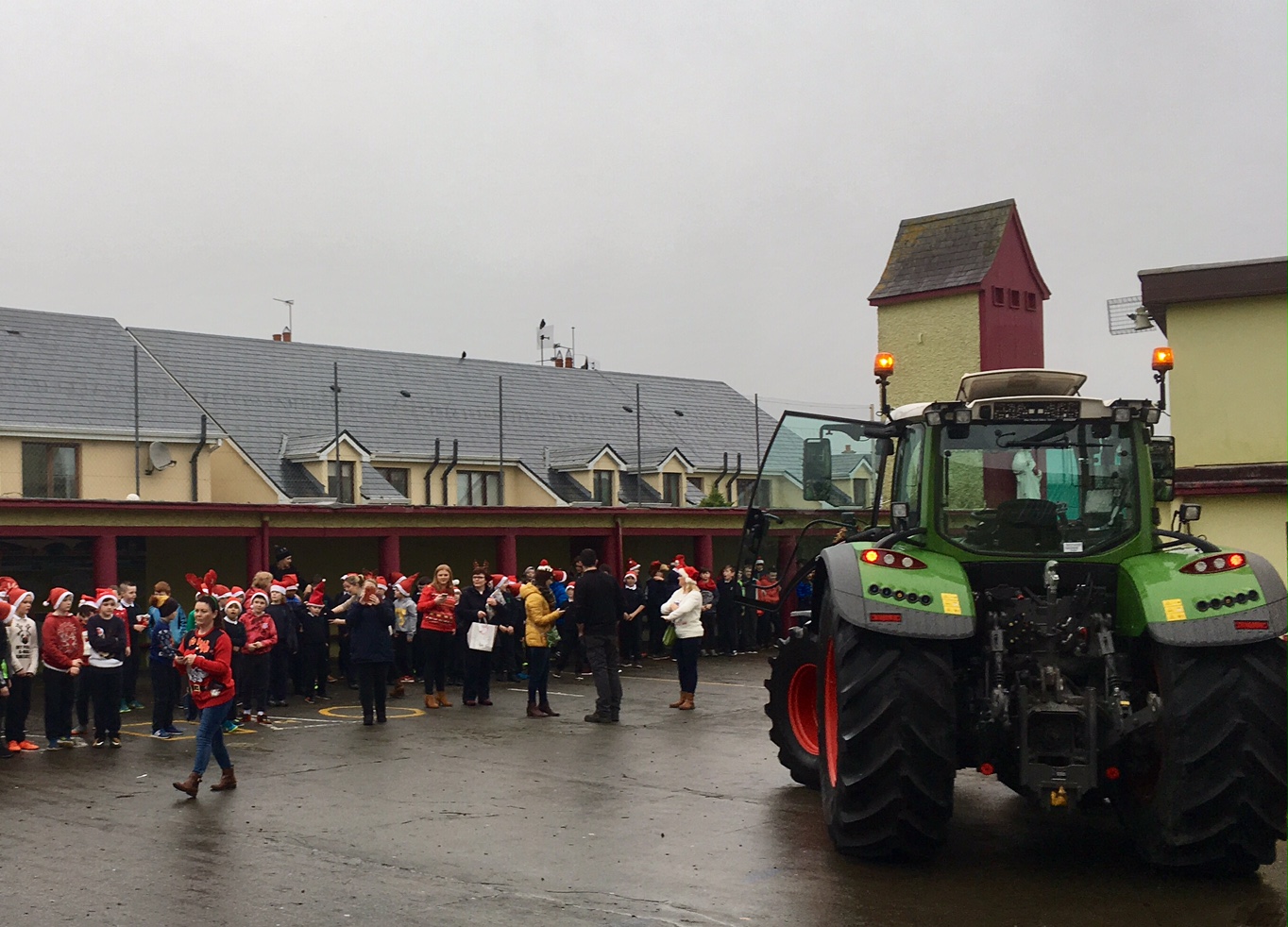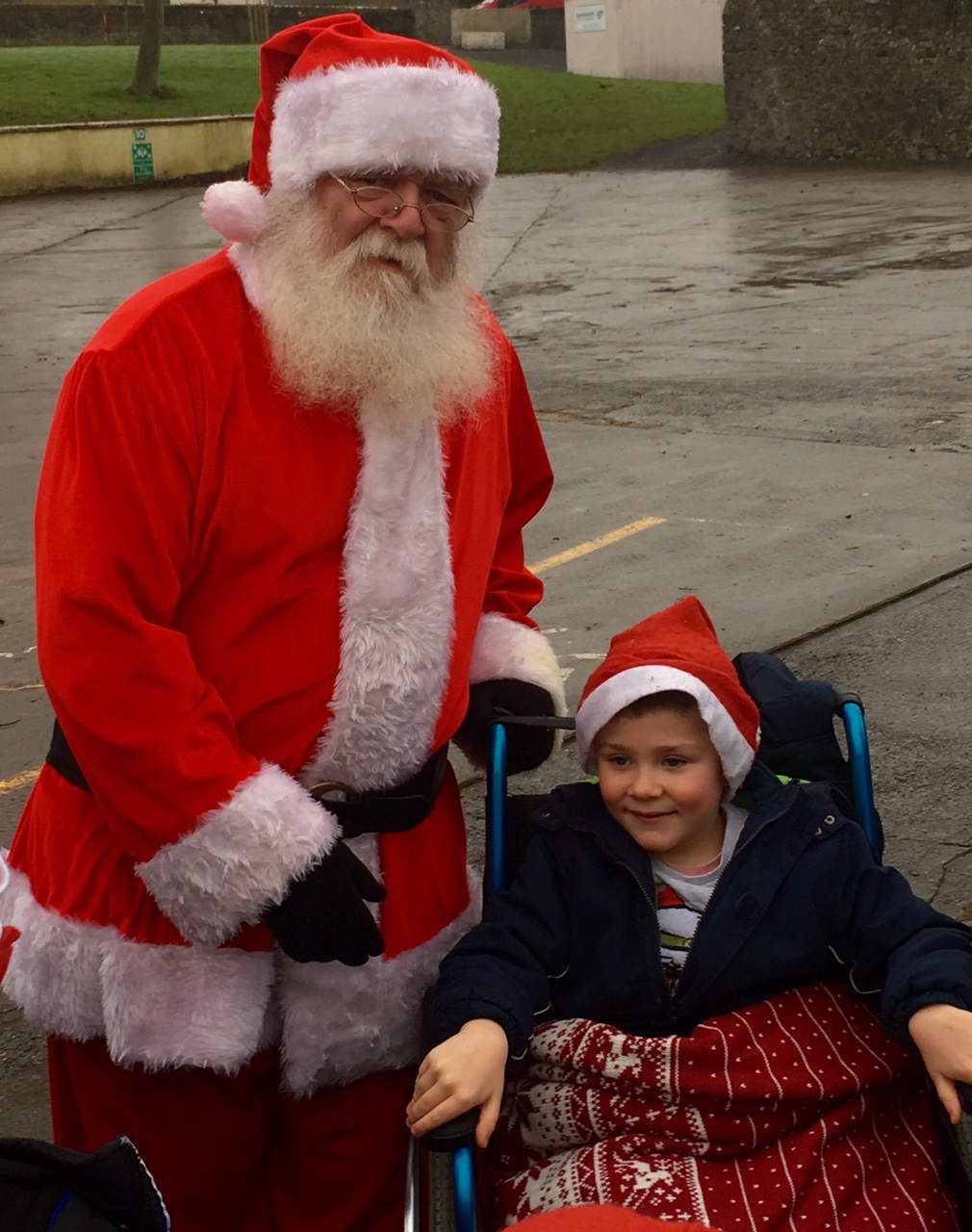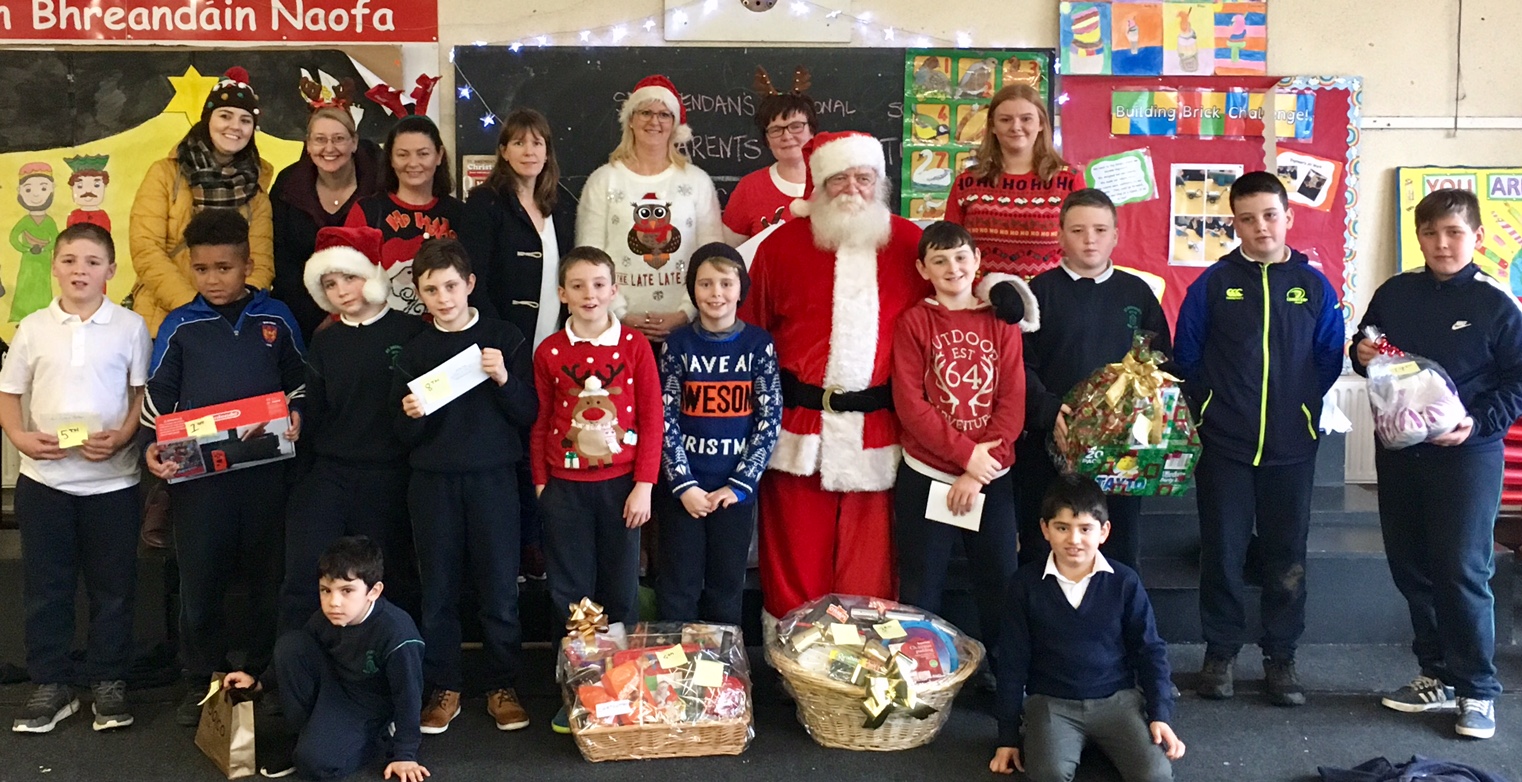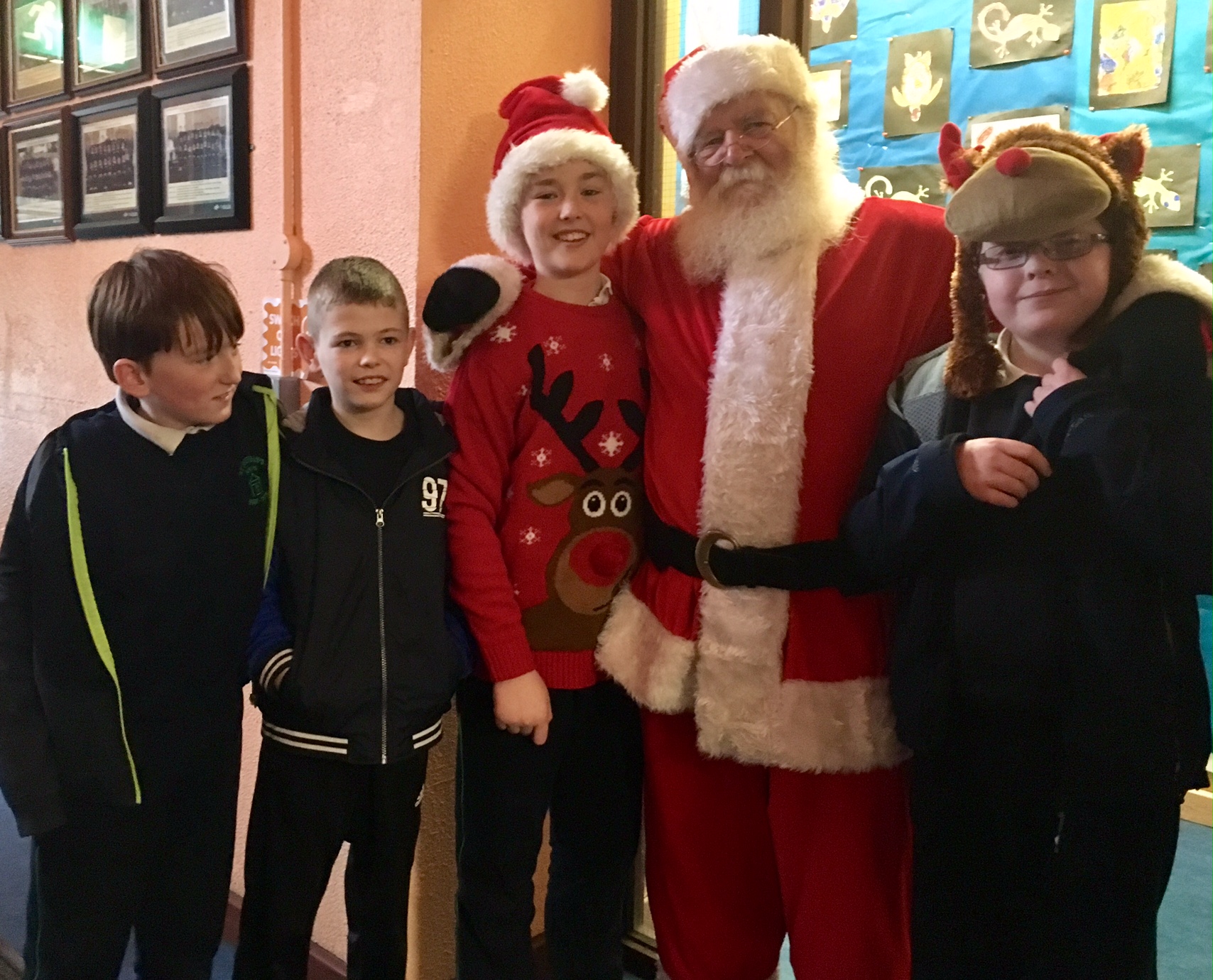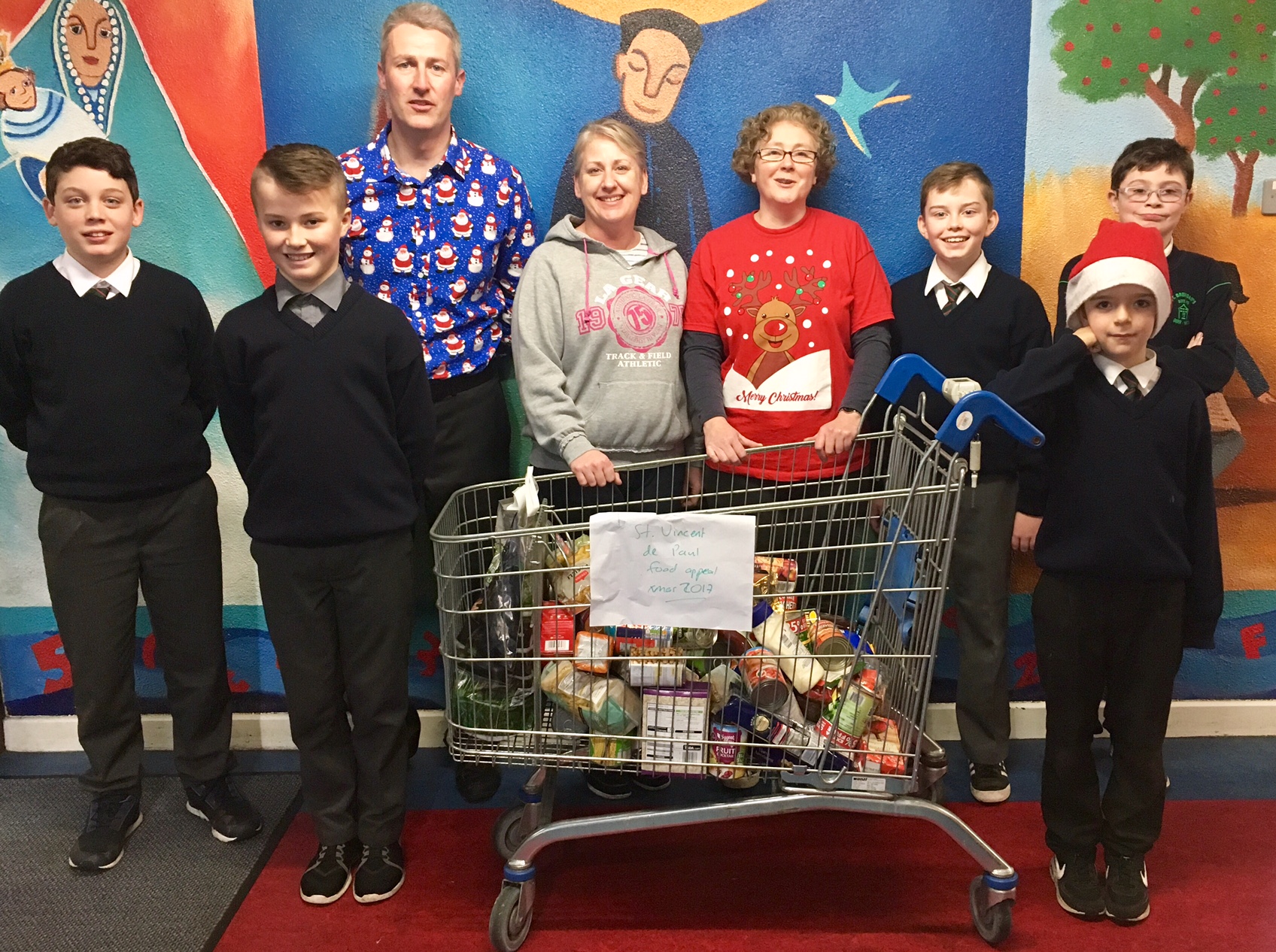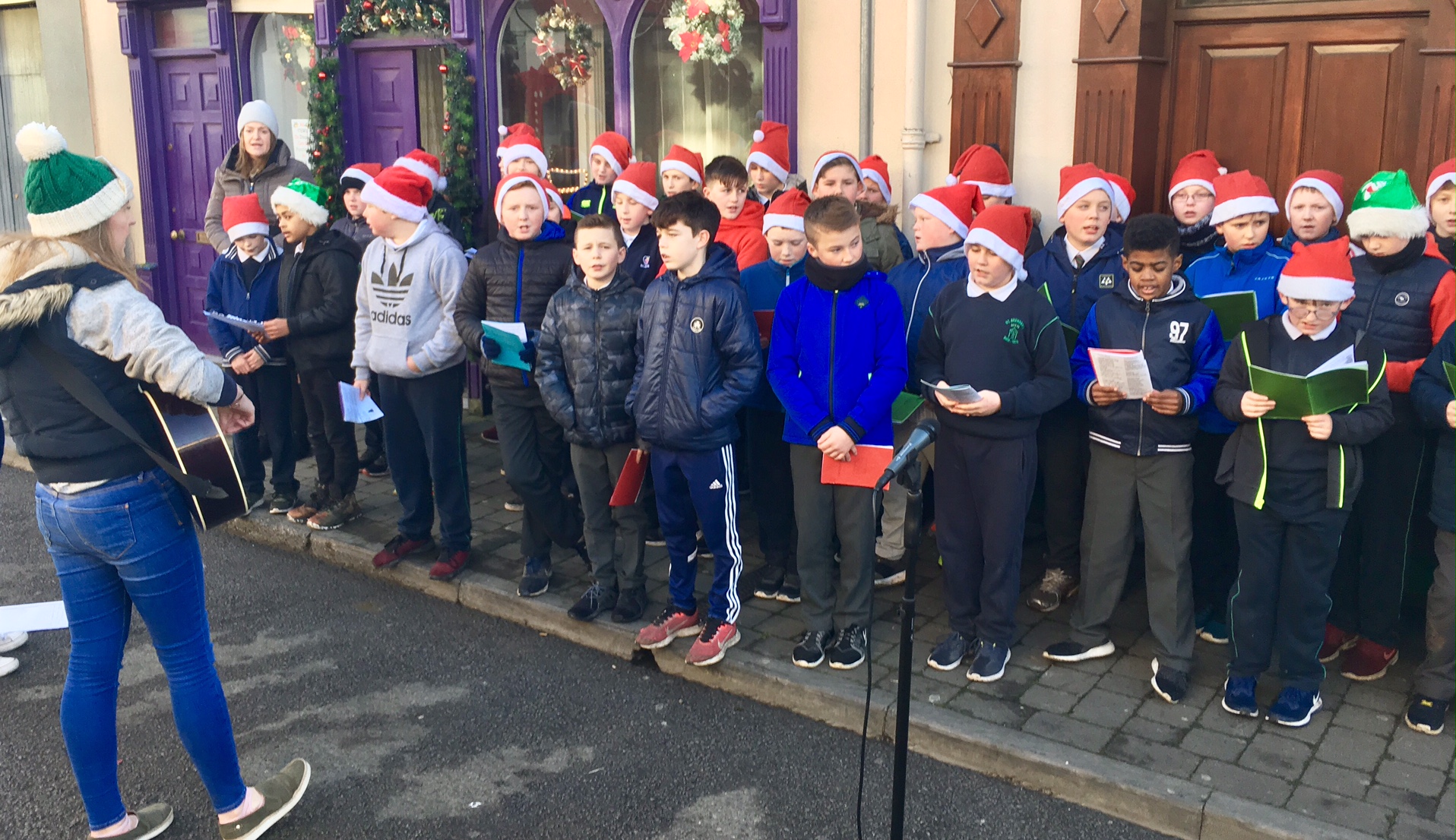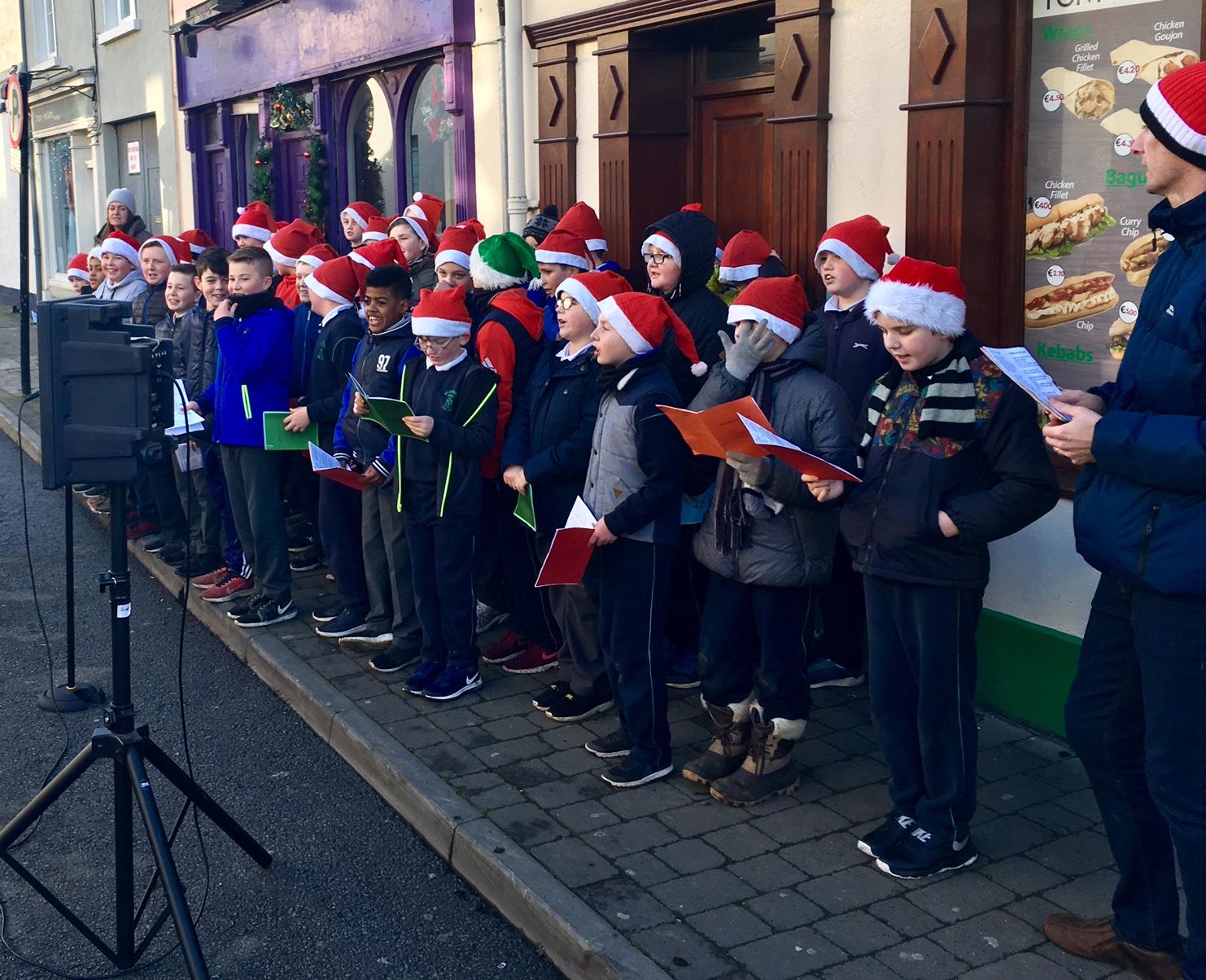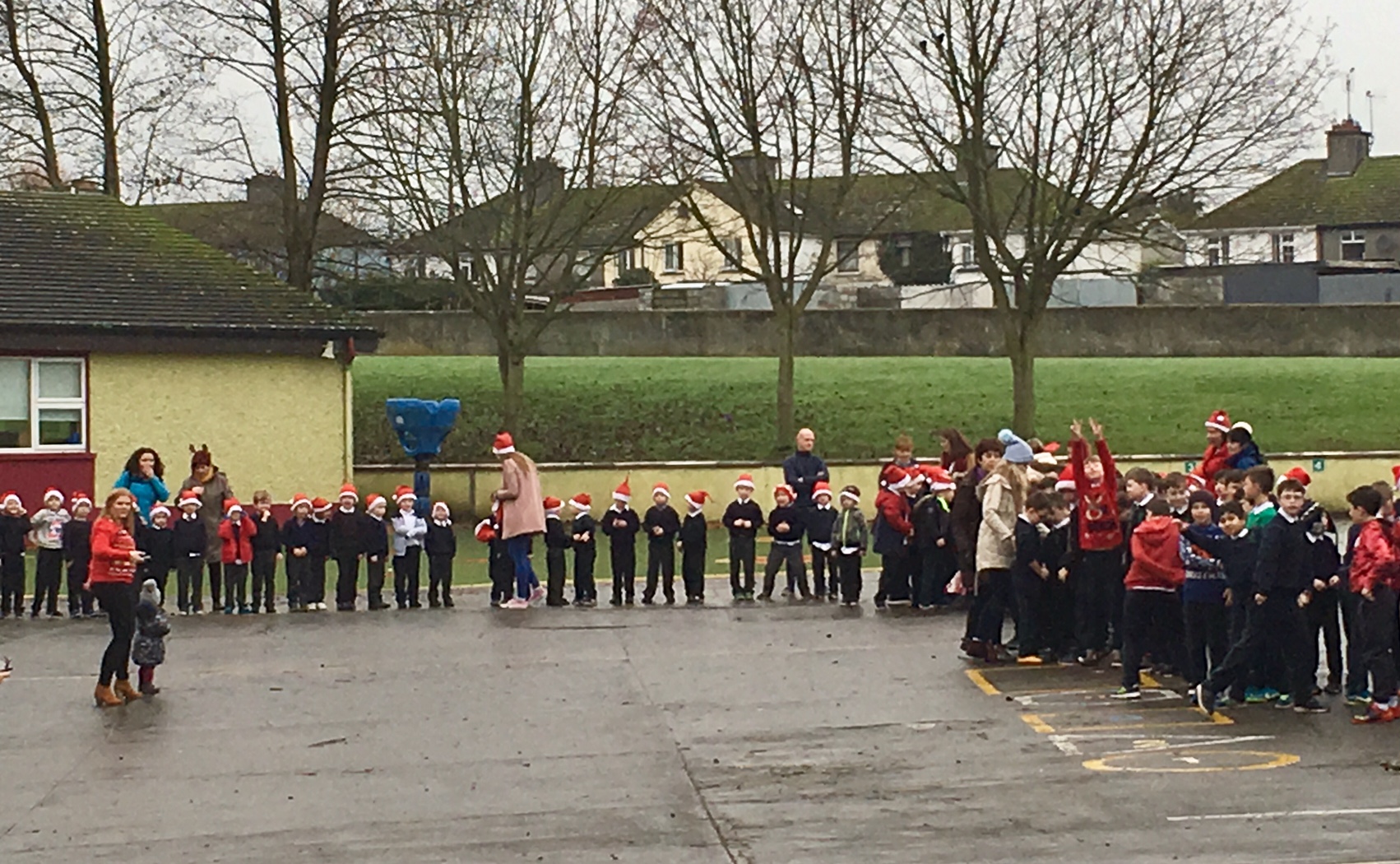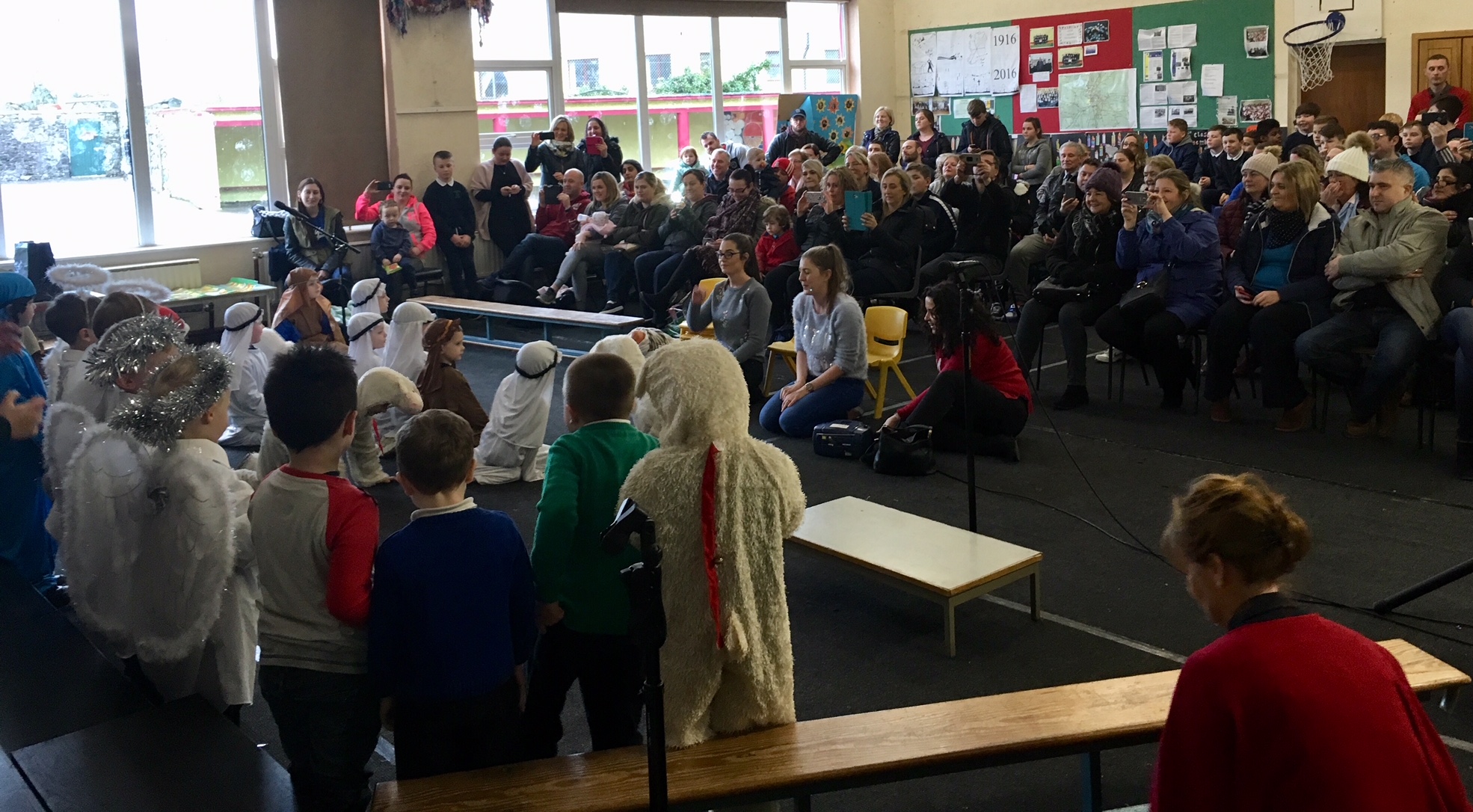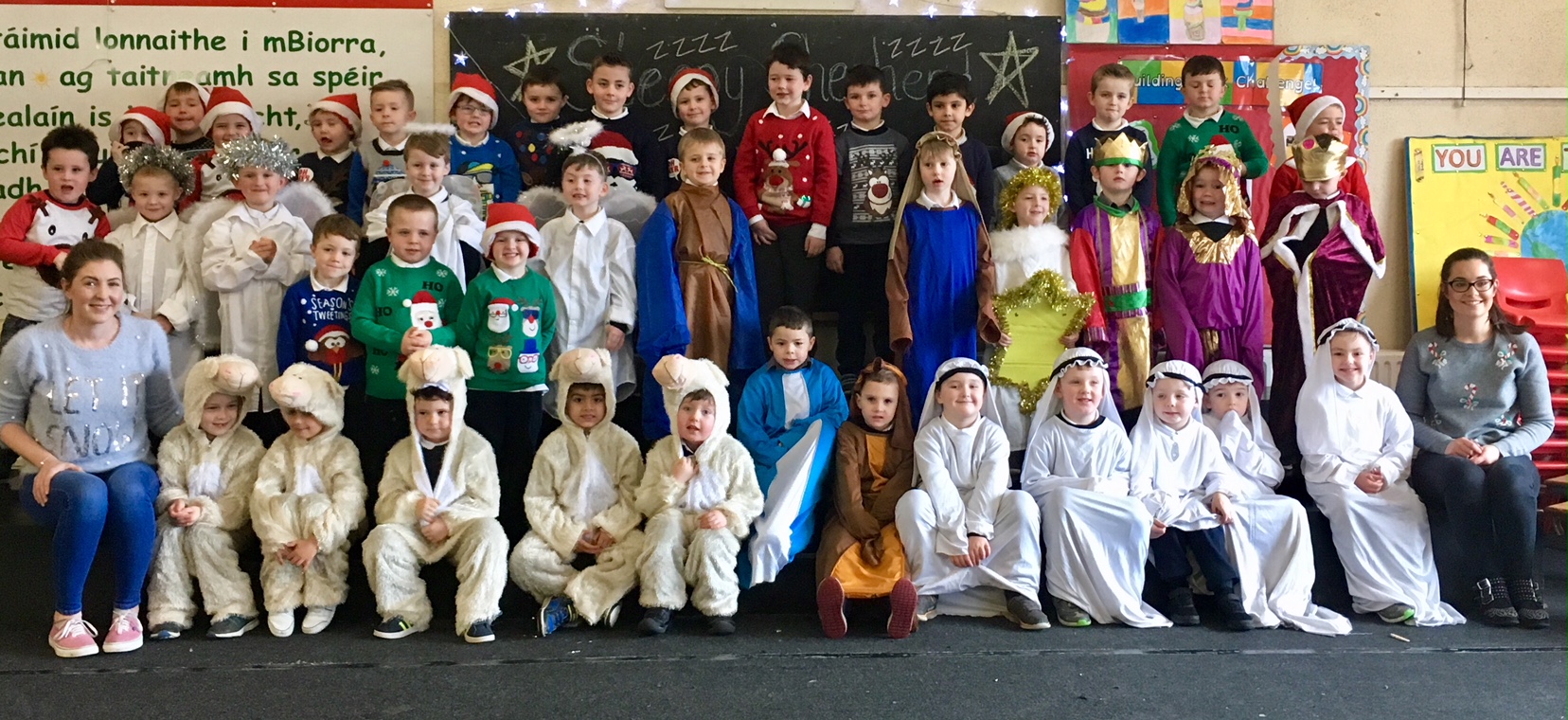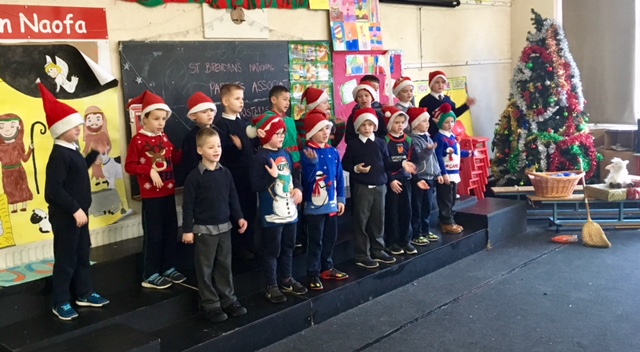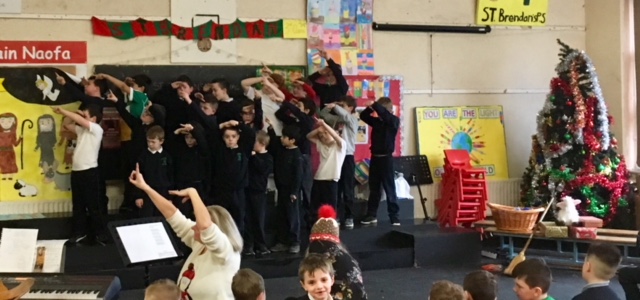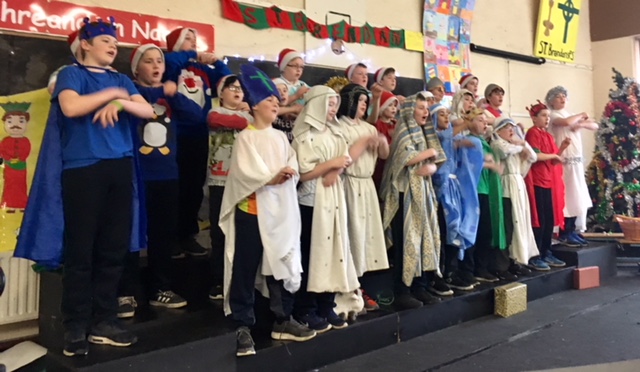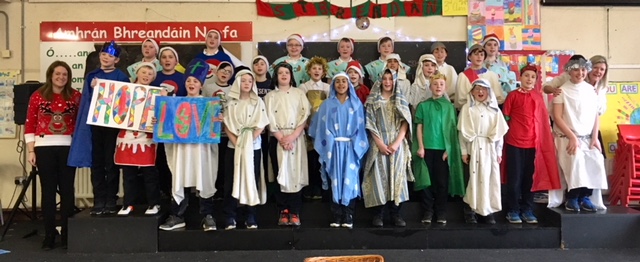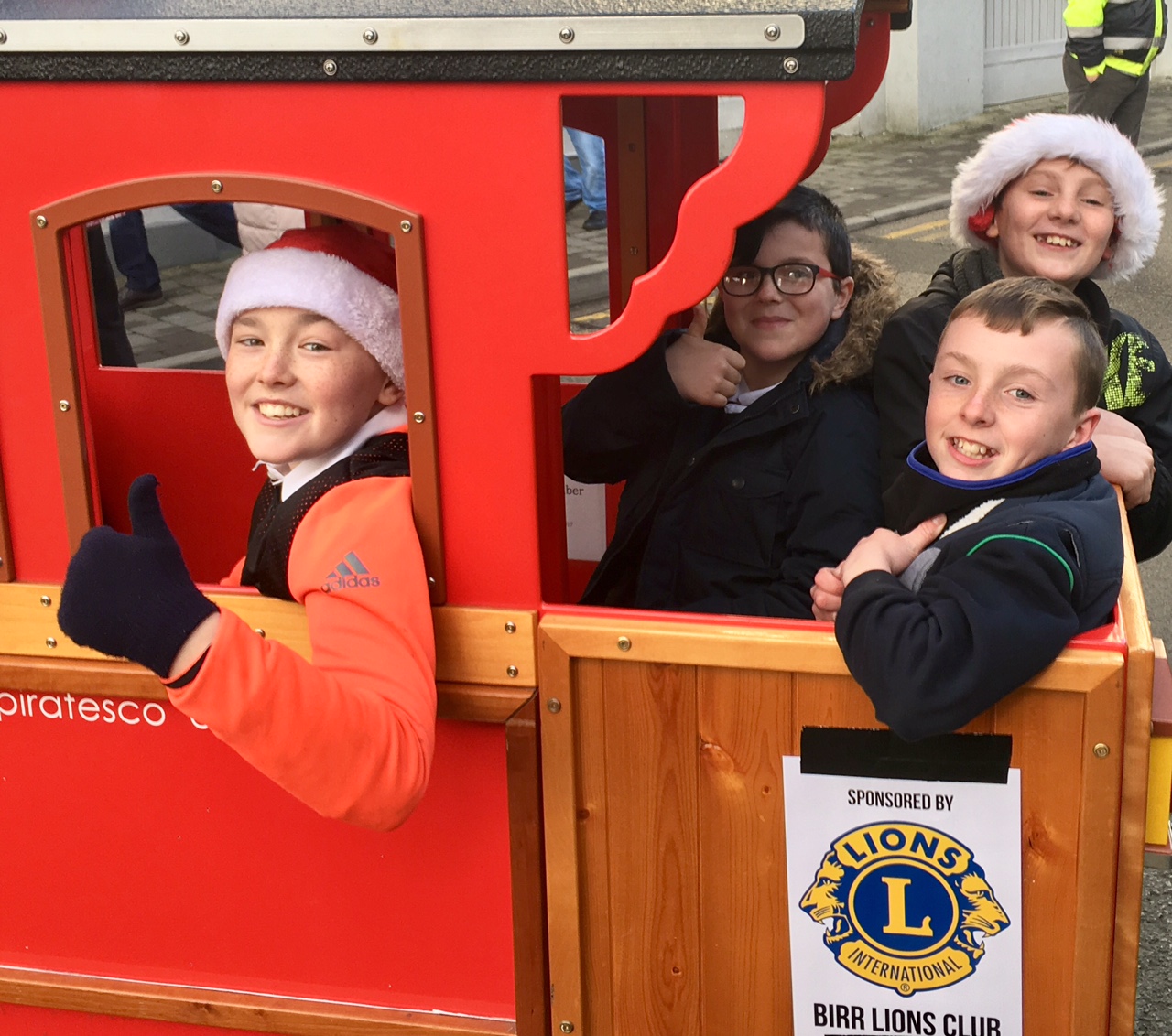 Christmas 2017 @ St Brendan's PS
It's a busy time with all classes celebrating the season in their own way. Some classes are doing plays and concerts this week. The following is a list so that parents/ families can make plans if they wish to attend. Please note that any photos videos taken should be of your child for your own personal use. Thank you for your support with this.
Monday 18th Dec              11.15-12.30         Confessions for boys 3rd -6th for Christmas
Tuesday 19th Dec:             11.30am               Junior Infants / Senior Infants    songs / play
Wednesday 20th Dec       12.00pm               PA Christmas Draw in hall
Thursday 21st Dec           10.00am               6th class visit Christmas market in Community school ( Full Uniform)
11.05am               1st Class Christmas songs
11.20am               2nd class Christmas songs
11.35am               5th class Christmas Play
12.15pm               Birr U21 Hurlers bringing their cup to school – Past pupils
1.20pm                 Junior Infants/Senior Infants songs/play (for anyone who missed 1st show)
1.30pm                 6th class- Carol singing in Sandymount – home after if note
Friday 22nd Dec                  12.30pm               School Holidays ( Final advent assembly in school)
No school lunches today so all boys asked to bring a snack